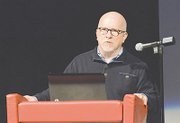 The overwhelming message delivered at last night's annual Community Thanksgiving Service is that the community needs greater awareness of Sunnyside's food banks.
Dave Hanson is executive director of Sunrise Outreach, which began in Yakima at the Vineyard Christian Fellowship. He was Sunday evening's featured guest speaker at the Thanksgiving service.
Hanson said Sunrise Outreach is the result of discovering one church cannot meet all the needs in any given community. It is a partnership of churches that reach out to serve the hungry, the homeless and those with a need.
Sunrise Outreach has partnered with Sunnyside's food banks to meet the needs of those living in the Sunnyside area.
Hanson introduced Elena Myers, who directs the Adventist Community Services food bank.
She said the food banks in Sunnyside have been seeing a greater need, but the community has stepped up to meet the need.
"Three hundred turkeys were donated for Thanksgiving," said Myers.
Melissa Miller volunteers for the Sunnyside Ministerial food bank and said it is her way of "paying it forward."
She said the need in the community is evident, noting 180 individuals received assistance from the food bank last Friday.
Miller said she didn't know Sunnyside had a food bank until last month and believes it is important to teach the community that there are food banks ready to serve those in need.
Hanson said, "The ministry is as much about those who come to help as it is about those whom they serve."
He said families are helped as a result of the food banks and the shelters provided to the community of Sunnyside.
Hanson told those at the service Oasis Community Church has opened its doors to serve as a shelter for the homeless.
"Shelters are not a solution," he said, stating every service provided through the food banks and the church should be about loving members of the community.
Hanson said it is about "...helping people who have lost their way find it."
As a result, he said, Oasis Community Church last year helped 11 of 12 families served through the shelter find permanent housing. "That's love," said Hanson.
He said the Sunnyside Ministerial food bank provides outreach services for those who visit. Volunteers help those visiting the food bank find shelter and help with medical needs.
Norma Bender is a volunteer at the food bank, who told those gathered she was helped through the food bank.
Five years ago she became disabled. Having five children, Bender said she turned to the food bank for help.
Over the years, she said, she found herself helping others from home. She was asked to volunteer at the food bank and is able to do more for the community members than she believed she could.
Hanson said more than 28,500 people die each day from hunger on a worldwide scale.
Yakima County is one of the poorest counties in Washington state and he put that into perspective, noting that 100 percent of single-parent households in Mabton live below the poverty level.
"We can do something about hunger...we just have to decide to be obedient to God," said Hanson.
He said God asks His people to love others and Hanson believes that is achievable.
Christians, he said, can educate themselves regarding the needs of the community and pray about helping. He challenged those gathered for the Community Thanksgiving Service to be ready to take action.
"You must be willing to allow yourself to be used as part of the solution," said Hanson.