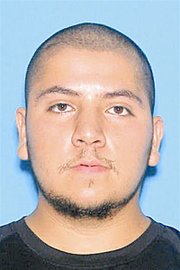 GRANDVIEW - Law enforcement agencies from Wenatchee to Grandview are hunting for Marcel Maldonado, 21, of Grandview, who is the suspect in a series of armed robberies.
The incidents started at about 6:20 p.m. last night (Monday) at a mini mart in the 100 block of East Wine Country Road in Grandview. Police in Grandview received a call of an armed robbery in progress at the store.
The suspect was carrying what witnesses described as a rifle and demanded money from the register. He left the store with an undisclosed amount of cash and fled the scene in a 1998 Cadillac DeVille.
About 10 minutes later, Grandview police responded to a report of a carjacking in the 2700 block of Wilson Highway. On arrival, officers found a Cadillac sedan wrecked at the scene. It's believed the Cadillac was the vehicle used by the suspect who robbed the mini mart.
According to the Yakima County Sheriff's office, passing citizens saw the wreck and stopped to offer help. They say the suspect pointed a weapon at them and demanded their vehicle. The good Samaritans sped away in their vehicle and contacted police.
A citizen who lives near the scene of the wreck walked out to offer help as well, according to the sheriff's office. The suspect pointed the weapon at him and demanded keys to his vehicle. The victim complied with the carjacker's demands and the suspect drove away in a 1987 Ford Ranger.
Law enforcement searched the area without success.
About an hour later, Yakima County Sheriff deputies received a report of a carjacking from the west bound rest area of I-82 at mile post 22. Upon arrival, deputies found the stolen Ranger pick-up truck.
According to deputies, a couple explained they had stopped at the rest area and the male had gone to use the bathroom facilities when the motorist in the pick-up truck pulled up and the driver threatened the female with his weapon. The suspect drove away in the victims' 2011 Volkswagen Jetta.
Deputies say the male victim exited the restroom and realized what was happening. He told police he used his own firearm to fire at the fleeing vehicle. It is not known if any of the rounds hit the vehicle.
Ellensburg law enforcement officials spotted the stolen vehicle and became involved in a high speed pursuit of the vehicle north on highway 97 across Blewett Pass. The Ellensburg officers terminated the pursuit in the interest of public safety.
The Volkswagen Jetta, bearing the Washington state license plates AFB9512, was last seen headed north on highway 97 toward Wenatchee.
Police officials say Maldonado should be considered armed and dangerous. Anyone with knowledge of the whereabouts of the suspect or the stolen Jetta should immediately call 911.