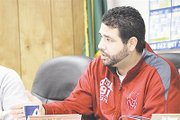 MABTON - The deficit in Mabton's 2013 budget is shrinking.
At this past Tuesday night's Mabton council budget workshop, the council was able to pare back enough funds to drop the deficit by more than $100,000. Last week's projected numbers indicated a $145,000 deficit, while this week's numbers showed a difference in revenues and expenditures that totaled only $33,587.
Mabton Mayor Angel Reyna says with a few more tweaks to the 2013 budget, the city's financials should be balanced by this time next week.
One of the items suggested to be cut was $9,000 for a new truck on the public works department's wish list.
In addition to that, Reyna says there are unused funds from previous grants that could be rolled into the city's funds to add to its revenue amount for the year.
"Grant money is still available, it's roughly around $100,000 that we need to see if we can move around and keep," Reyna said.
Reyna says City Clerk Ret Stewart is checking on that issue with state officials to ensure the funds are secured.
The city is also planning on allocating nearly $20,000 in reserve funds towards improvement projects, such as fixing the roofs on city buildings, namely city hall and the police department.
In addition to that, the 2013 Mabton budget saw a decrease in projected expenditures from last week's prediction of $2.06 million to a leaner $2.03.
Councilman Mario Martinez also suggested at Tuesday's workshop that they should consider adjusting man hours spent in the public works department.
He says the city is charging 16 percent labor in its utility charges, and the work hours are currently coming in at about 10 percent. He added that the city doesn't charge its residents for hours worked on garbage, but the public works employees help clean up the city with free dump days and related work activities. He says that should be balanced out, to become more accurate.
"We're pretty well capitalized, we've saved and held off spending for three to four years, so we have the money to do what needs to be done," Martinez added, citing the rationale for dipping into reserve funds for the improvement projects.
Reyna says after weeding out a few more expenses and finding ways to increase revenue a bit, the budget should be looking good and healthy come next week, Tuesday, Nov. 27, when the council plans to adopt the 2013 budget.
"I think we're 'sitting pretty', as they say," Reyna added just before closing the 2013 budget workshop this past Tuesday evening.