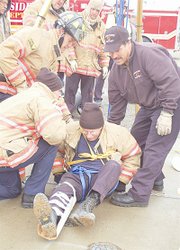 A man with a broken leg, trapped in a water main with potentially toxic fumes sent Sunnyside Fire Department personnel scampering to a vacant lot downtown on Edison Avenue yesterday.
Tuesday's incident was actually a drill, a scenario to test emergency responders in the event of a confined space rescue.
It was all part of a two-day event here this week in which emergency personnel with the fire department received training and hands on experience at extricating victims from tight spaces.
Lloyd Hazzard is Sunnyside's assistant fire chief, and he says the training is held once a year. This year's event was done with the cooperation of city hall, as well as Valley Processing and Darigold.
The "victim" in yesterday's scenario was Sunnyside firefighter/paramedic Greg Hutchinson, who was pulled up without incident from the water main.
Yesterday's training included addressing potential injuries in the tight space, as well as pumping fresh air into the site.
Hazzard noted the experience also included lowering a monitor into place to measure air quality and to determine the possible presence of toxic fumes.
Besides the training they've received this week, Hazzard noted Sunnyside fire department personnel recently gained another boost in treating these types of situations when two oxygen tanks were donated by Benton County's fire district.
Hazzard said the county had the tanks back when the Umatilla weapons depot was operational. With that no longer the case, the county and Sunnyside have worked out a deal where they will share the tanks under a memorandum of understanding.
More like this story