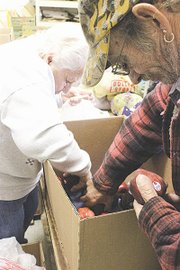 Nearly 300 Sunnyside families will have a turkey on the table for tomorrow's Thanksgiving holiday.
That's thanks to time and funds donated to the Adventist Community Services food bank, located off of Lincoln Avenue in Sunnyside.
Food bank director Helaina Meyers says last year's pickings were slim, and the organization wasn't able to acquire enough donations to provide its clients with turkeys in 2011.
"We are very excited to be able to do it again this year," Meyers added.
Through the organization's yard sales throughout the year, along with numerous private donations, Meyers was able to purchase 300 turkeys for this Thanksgiving.
"The community really rallied around us this year, and we were able to get enough turkeys for Thanksgiving," she said.
However, the work of the food bank volunteers is hardly complete.
After the holiday is over, the dishes are washed and the food is put away, Meyers and her staff of dedicated volunteers will continue to distribute food each Tuesday.
And for Christmas this year, the team is hoping to again provide turkeys to their clients, along with Christmas gifts for each family who comes through. The Christmas distribution date is set for Tuesday, Dec. 18, and Meyers says she's hoping to have raised at least $1,000 to purchase turkeys, as well as extra donations to give a child an extra gift this Christmas.
To donate to the Sunnyside ACS food bank, contact Meyers at (509) 588-9938.