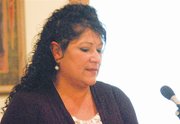 Joyce Johnson, president of the Sunnyview Republican Women's Club, introduced guest speaker Suzi Carpino with a list of all the training she has received in her life that relates to working with youth.
But Carpino said she has received much harsher instruction from the victims and survivors she has worked with in the last few years.
"All the training I received was nothing compared to the training I've gotten working with exploited children," she told the club members yesterday (Tuesday).
Carpino is a specialist working under a domestic minor sex trafficking grant. Her work puts her in contact with gang members and victims of gangs, often the same people.
She came from a background of working with youth who were succeeding in life.
"It was very comfortable to help a student with a senior project," she said of working for the Sunnyside School District. But when she was offered the opportunity to work with at-risk children, she couldn't turn it down.
"It was a calling," Carpino told the group. She said she's often asked if she's afraid, working so closely with gang members. In response she said she feels as if she is protected while she fulfils this role.
"What I fear is how the gangs corrupt and exploit the youth," she said. It is her goal to educate, to bring in awareness and understanding so she can empower individuals to make a difference in the lives of the children of Sunnyside.
Carpino explained what human trafficking is and why it appeals to gang members.
"You can sell drugs or guns only once," she said. "A girl can be sold many times."
She also told the group that when she first started to work on obtaining the grant she was told it was pointless.
"I was told it (human trafficking) didn't exist in this area," she said. "I said, great, the grant will prove that."
What she found was that it exists virtually everywhere and that any child can be a victim. She related how at another presentation she listed warning signs, including children suddenly having large amounts of unexplained cash, and a judge in the audience told her that his granddaughter had come home one day with $1,000 in cash.
The family learned that the girl was being trafficked.
"They wanted to believe her lies about where she got the money," said Carpino. "But a little digging revealed the truth."
Carpino told the Republican Club audience how girls are groomed by gang members. The girls receive gifts and attention. They are offered protection, love and respect.
"Who doesn't want love, protection and attention?" asked Carpino.
Girls from poor or abusive families are at particular risk because the gang appears to them to be a better life than family can offer.
"They treat them better than their own families," said Carpino. "At least for a little while."
After the gangs have control of the girl, they manipulate the relationship.
"If you love me you'll do this one little thing for me, the boyfriend will say," said Carpino. "The girl feels like she owes the boy, so she'll agree."
She said the victims all remember the first time they were pimped out. It is always traumatic. After that first time the victim will notice the boyfriend's attitude toward her changes. And eventually they are just another thing for him to sell.
Carpino said it's very difficult for girls to get out of the gang life. They are usually recruited as children and are often surrounded by people with gang affiliations. They may know a lot about the gang as well, maybe too much to be allowed to leave.
"They could get these guys in a lot of trouble," she said.
She told the group that they can help by being available to children, by simply showing children that they care.
Carpino said that when she started her new calling in life some of the girls cursed her and told her to leave them alone. One of them finally said, "You aren't going away, are you?"
"I can't leave," she said. "I've been called."
Carpino also asked members of the Sunnyview Republican Women's Club to visit the website of Sunnyside's Promise at http://sunnysidespromise.org and watch the DMST video. There are two videos available, one about Sunnyside's Promise and one that tells the story of domestic minor sex trafficking from victims and former gang members.
"The victims are the best educators," said Carpino.
Laura Gjovaag/Daily Sun News
Suzi Carpino of Sunnyside's Promise speaks to the Sunnyview Republican Women's Club this past Tuesday about the problem of domestic minor sex trafficking.
1 Laura Gjovaag 11/21/2012 2:57 PM