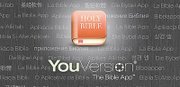 Black Friday, Cyber Monday, turkey, football, shopping, football, trees, ham, shopping, lights, shopping.
The next four weeks will go by in a blur as we fast forward into the Christmas season, holiday season, winter season, or whatever season the politically correct are calling it these days.
That's why I love YouVersion, an app that allows us to grab a few minutes and nourish the soul in a season when we tend to overstuff our bellies and budgets.
In partnership with a number of publishers, YouVersion is a product of LifeChurch.tv.
Based in Edmond, Okla., LifeChurch.tv is a mega-church with worship services on 15 campuses primarily in the south.
But it's not just any mega-church. Instead of asking for money, it just asks you to encounter God wherever you are.
As a result, LifeChurch.tv offers an on-line church experience. YouVersion, which offers more than 300 versions of the Bible in nearly 150 languages, is an extension of that. The app is free and LifeChurch.tv pledges not to sell or otherwise peddle the personal info of those using the site.
With more than 50 million downloads, YouVersion is more than just an on-line Bible for the computer or mobile device. Whether it's the traditional King James or Contemporary English, reading and interacting with the Bible text has never been easier.
It's simple to highlight a text, add comment to a Bible passage, or copy and paste it into a Word file. It's a big help, whether for personal study or lesson prep.
Other features include a Verse of the Day, the ability to remember the last 10 Bible passages you visited and a search engine based on Bible reference or keyword. Many of the translations have an audio option so you can listen to the reading.
YouVersion's strength lies not just with the Bible access, but the more than 200 daily reading plans and devotionals it offers.
Whether a reading plan for a day or two or for an entire year, YouVersion's selection of reading plans range from classics like C.H. Spurgeon to the contemporary such as Joyce Meyer.
I tried one reading plan and when I got behind YouVersion sent me a gentle e-mail reminder that I wasn't reading. It's a nice touch.
Further, you can start your short or long reading plan any time and YouVersion will let you know the date it should be completed, let you re-start if you fall behind and even mark your place so when you return you pick right up where you left off.
There are seasonal readings, like some you can start now for Advent.
Even with its success, LifeChurch.tv isn't resting on YouVersion's laurels. They are continually upgrading the app, such as adding a devotional reading series from worship-meister Matt Redman based on his recent 10,000 Reasons release.
Just the other day I stumbled on a reading plan I can't wait to start.
It's a seven-day devotional from the Newsboys based on their collection of favorite worship songs. It's pretty cool in that it incorporates video into your daily reading.
One YouVersion proviso: With the exception of the King James, all mobile versions and reading plans will only upload if you're on a wi-fi connection.
Also, YouVersion has a pop-up message on my screen every time I open it saying that the app can't open. I simply disregard the message and proceed.
The wi-fi requirement can be a hindrance for travellers or those out of range. And the pop-up message is just a temporary annoyance.
But they are minor bumps compared to the storehouse on YouVersion. I love YouVersion and I think you will, too.
The app is available at https://www.youversion.com/mobile for all mobile phones and devices, including Kindle Fire.
YouVersion is Windows-compatible and can be viewed on your desktop or laptop computer by visiting www.youversion.com.
More like this story