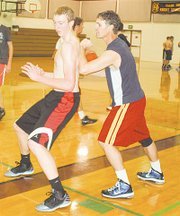 After serving as JV coach since 2004, Brian Bosma is starting his first season as the varsity coach for the Sunnyside Christian High School boys basketball team.
Bosma is taking over for long-time coach Dean Wagenaar, the school's principal and athletic director who stepped down as coach after a run of State title teams for the Knight hoops program.
Bosma doesn't view his new role as filling big shoes, though.
"Those basketball teams aren't here anymore, this is a new team and a new season," he says.
A Sunnyside Christian alum who played for the basketball program, Bosma said serving as a JV and assistant coach under Wagenaar these past eight years has been an education.
"I had a great enthusiasm for the game, but he taught me about the X's and O's," Bosma says of the training he received from Wagenaar. The coach says he looks forward to learning more tips from Wagenaar as his inaugural season at the varsity helm continues.
Bosma notes that Sunnyside Christian basketball will be somewhat different this year in that he'll look to install fewer offensive sets and instead take what the defense gives the Knights, whether it be from the perimeter or post.
The Knights are well-stocked this season when it comes to playing the perimeter and post, with all-state returnee Brandon Broersma in the paint and veteran Alex Brouwer pushing the ball up court for the Knight attack.
While it might be tempting to rely on the 6-7 Broersma - a senior who's already signed to play for the Dordt College hoop program - Bosma says Sunnyside Christian will look more to a one-two punch with Broersma and Brouwer.
The coach notes having an impressive big man isn't enough, as someone has to get him the ball. Bosma praised Brouwer's ball-handling skills and his play as Sunnyside Christian's "floor general."
Bosma adds, "Brouwer and Bosma are equally important for us."
Sunnyside Christian takes the floor for the first time this season at the Sunnyside High School jamboree next Tuesday.
Bosma, who coached the current varsity players while they were in the JV program, says victories and another state title run this season would be sweet...but not an end in itself.
He has a bigger goal in mind that includes team prayers and devotionals to nurture the mind and spirit, not just hoop skills.
"It's not just about the basketball. If it was just wins and losses I wouldn't be here," says Bosma, a dairyman. "Hopefully the kids who go through our program will come out with a stronger character."