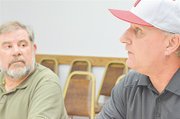 GRANDVIEW - Budget discussions picked up from where they left off last week, at this past Tuesday night's meeting held by the Grandview City Council.
Mayor Norm Childress opened the meeting, saying, "The budget process is complicated, sometimes boring and other times depressing."
He said the city of Grandview has had to make some tough decisions regarding the proposed 2013 budget and he knows it is sometimes difficult not to place a face on a position when discussing specific transitions within a department.
However, Childress said, the department heads, treasurer and he have worked hard to retain staff members without raising taxes.
"We have to be mindful when discussing cuts to services that those cuts could mean cutting jobs," said Childress, noting no staff members will be out of work with the adjustments that have been made in the proposed budget.
Parks and Recreation Director Mike Carpenter and Police Chief Dave Charvet returned Tuesday to provide added details regarding discussions that took place at last week's meeting.
Charvet spoke first, providing the council members with staffing statistics associated with the police department.
He said the population of Grandview has grown by more than 2,500 people since 2000. The police department had 16 officers, or 1.9 officers per 1,000 residents, from 2000 to 2004. Two officers were added in 2005, giving Grandview 1.65 officers per 1,000 citizens through 2012.
In the proposed 2013 budget, one officer will be leaving the department, reducing the number to 1.56 officers per 1,000 residents.
Charvet said his officers are serving more citizens with less manpower, and state statistics reveal there should be five more officers serving the community to maintain officer and citizen safety.
Charvet said there were 369 gang-related police calls in 2011 and this year there have been 214 of those calls. Officers have responded to a total of 4,923 calls in 2012.
"We'll take a big hit on property crimes due to a lack of manpower in 2013," said Charvet, stating the Grandview Police Department's focus will be on gang-related and priority crimes next year.
He used this past Monday night as an example of the impact violent crimes have on the Grandview Police Department, stating half the police force was investigating a robbery and a shooting incident simultaneously.
"I think it's important for you (council) to be informed," said Charvet, stating the statistics were supposed to be part of last week's presentation, which was abbreviated due to time constraints.
Carpenter returned to the council chambers because he was asked to provide information about the pool operations and the part-time parks and recreation staffing proposed in the budget.
Carpenter said the city would potentially save $41,000 if it were to close the pool for a season.
The proposed expenditures, including salaries for pool staff, are anticipated at just under $78,000 and revenues are anticipated at only $18,000.
Childress asked about the logistics associated with closing the pool for a season and reopening it in 2014. He asked whether there would be difficulty doing so.
Carpenter said, "We've been operating on borrowed time."
He said the pool was built in 1955 and there have been many "band-aid" repairs to it. He said it is difficult to make the pool operational in preparation for any season after it has been closed between summer seasons.
Opening the pool two seasons after closing, Carpenter said, might be more difficult.
Carpenter also presented a list of priority parks and recreation programs put together by his staff, stating Frenzy Friday, Zumba classes and weekly senior programs are at the top of the list.
The Frenzy Friday program is highly attended by students attending the middle school, Zumba is popular with several community members and seniors enjoy participating in the programs organized for them.
Zumba classes generate revenue, and the school district contributes to the cost of operating the Frenzy Friday program, according to Carpenter.
The position of deputy parks and recreation director has been eliminated from the proposed 2013 budget and part-time staffing has been added to alleviate staffing issues.
Staffing the parks and recreation department with a part-time employee could potentially cost the city just more than $17,000 for an individual working more than 85 hours per month for a period of eight months.
Carpenter said the salary includes benefits, but the base salary before benefits would be just more than $8,640 for eight months, the busiest months for the department.
The possibility of hiring two part-time employees with no benefits was discussed, noting the employees would need to work less than 85 hours per month since the city's policy states the time limit requirement for benefits.
Carpenter said his only concern is finding employees who are willing to stick around under those terms.
Childress said the possibility of hiring college students looking for part-time employment to supplement their expenses might be a consideration.
Councilwoman Diana Jennings said, "It's a catch-22...they develop skills that can be taken to their next job."
She said she has had experience with part-time employees using such a position as a stepping stone.
Childress said every possibility must be considered because the city is trying to cut costs and do so effectively. He noted the benefits for an employee working more than 85 hours per month doubles the salary and believes it is the city's responsibility to "...reduce its footprint.
"Every decision we make is going to impact somebody."
The library's budget was the next topic of discussion, and Director Elizabeth Jahnke said, "The library is doing very well...use is up although circulation is down."
Salaries and benefits are the only budget items to see an increase in the proposed 2013 budget. The library anticipates approximately $3,000 more in expenditures to cover increases in salaries and benefits.
The budget for books was decreased by approximately $4,000 to accommodate e-book materials, which are budgeted at $3,000.
Jahnke said the library has also canceled a $2,100 subscription to Gale Research Databases because the search engine is not being used.
"People are used to Googling," she said.
City Administrator Cus Arteaga joined the discussion and noted the library has served to help the city of Grandview save approximately $3,000 in costs for training, as well. He said the public works employees have been able to host training classes at the library, bringing in employees from other municipalities. Because Grandview's staff did not have to travel and incur expenses for the training elsewhere, the city of Grandview saved expenses.
Moving on, it was learned the only other budget item to experience significant changes is the municipal court services.
City Clerk Anita Palacios said the proposed budget includes an increase of nearly $20,000 for the cost of having the county provide court services.
"That figure is largely dependent on the number of filings we have, but it accounts for payments for the judge and security," said Palacios.
Indigent defense costs are estimated to increase by nearly $11,000 in 2013, but Palacios said that figure has the potential of being less because there may be a reduction in the number of conflict cases.
Explaining, she said the city's prior defense counsel sometimes had to remove himself from a case due to conflicts. Outside counsel had to be contracted to handle such cases.
Because the city has contracted with another law firm to handle indigent defense services, it is believed the need for outside counsel will be reduced.
Palacios noted that the cost, however, when the need for outside counsel arises may increase now that public defense attorneys are limited to the number of cases that they may oversee in a given year.
She said the issue is on the agenda for next Tuesday's regular council meeting.
Palacios is also responsible for the city clerk budget, from which nearly $6,500 was cut for code publishing under office and operating supplies.
She explained the city reviewed and made changes to several city codes and ordinances in 2012. Changes and revisions to codes and ordinances are not anticipated in 2013, keeping the budget for office and operating supplies to $2,500.
Palacios cut expenditures in the proposed 2013 budget within the risk management services (insurance), as well.
She said the number of insurance claims have been reduced and the city is responsible for the Leoff 1 (firefighters and police officers hired before 1974) retiree medical benefits.
"There are currently six Leoff 1 retirees and next year two will be added...we have healthy Leoff 1 retirees," noted Palacios.
The city's liability assessment was reduced by just more than $9,000 because it has met its compact requirements with Washington Cities Insurance Authority.
In the planning budget, Palacios said there has been a reduction of approximately $2,000 in expenditures because the city doesn't anticipate the need for a hearing examiner during the 2013 budget year.
More than $4,000 was spent on hearing examiner services in 2012.
Treasurer John Myers next spoke about budget items he oversees, stating there are no significant budget adjustments anticipated in 2013.
A general obligation bond will mature at the end of 2012 and the city of Grandview taxpayers will cease making payments to the tune of $89,210.
That bond was for the remodel of the police department and the building that houses the fire station. Grandview residents have been paying for the bond since 1992.
In the capital improvement budget, Myers said there is a line item of $150,000 for a new museum, $8,000 is budgeted for a pathway from the middle school to Wallace Way and another $5,000 is included for a pathway at Country Park.
The Real Estate Excise Taxes must be used for capital improvements, according to Myers.
Arteaga, serving as the city's public works director and city administrator, detailed his department's proposed budget for the council, as well.
He said the city anticipates more than $42,800 in new revenue from the lease of tower space to wireless companies.
Arteaga noted 10 positions have been cut from the budget as the result of not filling vacancies left open when employees moved on.
The city's budget for graffiti removal was reduced, and Arteaga said police officers have effectively arrested responsible parties when graffiti is seen in the community.
The contribution to Grandview's EDGE was cut in half. Arteaga said the group has not been as active and the expense was not necessary.
He noted the city has in place an anticipated one-time revenue of $250,000 for the sale of assets, that being the former Bleyhl Community Library building.
That revenue, Arteaga said, will be a better known factor in the near future because an offer for the purchase of the property has been made.
A hearing on the 2013 proposed budget is slated for next Tuesday, Nov. 27, during the regular Grandview City Council meeting.