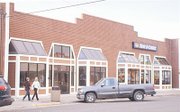 With the change in seasons, the pace of new building starts in Sunnyside slowed last month.
That's according to building permit information from the city of Sunnyside for the month of October.
The 13 new projects greenlighted last month had a combined total valuation of $211,254. September, by contrast, saw 30 new projects with a combined valuation of $957,894.
The bright spot for new building starts in October was a new home given the go-ahead at 328 S. 13th St. The 1,440 square-foot home has a valuation of $99,215. Rey's Construction of Mabton is listed as the project contractor.
The project netted $1,644 in permit fees for the city of Sunnyside.
October's other sizeable new start was a project valued at $41,293 to re-roof commercial buildings in downtown Sunnyside at 425-431 S. Sixth St.
It was one of four re-roofing plans given the thumbs up from city planners last month. The four projects have a combined valuation of just under $60,000 and garnered Sunnyside city coffers nearly $700.
The Sunnyside Housing Authority also had three projects approved last month that replace balconies for six of their tenants. The projects have a combined value of just over $5,000.