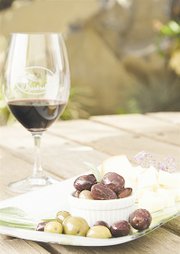 Yakima Valley wine enthusiasts can begin learning wine-tasting tips just in time for the holiday tasting season.
Yakima Valley wineries are set to open their doors the weekend following Thanksgiving to celebrate the winter holiday season. Wine tasters can this weekend sample Yakima Valley's finest wines and carefully selected culinary pairings.
Participating wineries in the Yakima Valley are offering food and wine pairings in addition to new experiences during the annual event, "Thanksgiving in Wine Country."
But before painting the vineyards the shade of a Merlot red, Wine Yakima Valley has some tips on how to effectively and safely conduct the wine-tasting process.
Plan your itinerary
Visit between three to four tasting rooms per day. Wine professionals suggest in order to get the true tasting experience, one should linger at each winery. A true tasting will allow you time to let your sensations pay attention to the flavors of each wine. Plan your itinerary so that at lunchtime you end up at a winery that has a picnic area.
Please drink responsibly
Discover the flavors of the Yakima Valley by sampling and drinking in moderation. Alcohol consumption is limited to people 21 years or older. Don't hesitate to spit; tasting rooms usually provide a container for this purpose.
Wine tasting etiquette
Many wine tasters want to be able to evaluate a wine's aroma without competition: avoid wearing a strong scent or smoking immediately before visiting a tasting room.
Explore beyond
your favorite wines
Every winemaker has a unique style and manner of finishing their wines, so a variety of wine (merlot, chardonnay, etc.) will taste differently at each winery. This is a great chance to taste wines that pique the tasters' curiosity.
Ask questions
Yakima Valley winemakers and growers are a generous bunch-with their time, knowledge and passion for producing world-class wines.
Whether you are a novice or expert, you will find friendly, knowledgeable hosts in the Valley's tasting rooms who want to pass on their passion for the Yakima Valley. In fact, many times in the Yakima Valley, the person behind the tasting room counter is the owner or winemaker.
Tasting and buying
wine at the winery
Some tasting rooms may ask that you pay a fee to taste the wine. Some wineries apply this fee to a purchase. Others might include the glass. Occasionally, wineries will run special sales. If the winery has a newsletter or mailing list, be sure to sign up. This way you will find out about special sales and events at the winery.
For more information about Thanksgiving in Wine Country, visit http://wineyakimavalley.org.