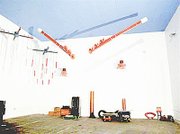 TIETON - For those looking for an adventure or unique gifts, Tieton might just be the place to go.
During the weekend of Saturday and Sunday, Dec. 1-2, the Mighty Tieton Holiday Craft & Antique Bazaar will be underway, the Trimpin's Mighty Tieton Sound Space will open and visitors can enjoy the Chandelier Festival.
The bazaar will feature unique, handmade crafts, antiques, sauces, sweets and entertainment under handcrafted and artistic chandelier displays.
The bazaar will be open from 10 a.m. to 5 p.m. on Saturday and 11 a.m. to 4 p.m. on Sunday at the Mighty Tieton Warehouse, located at 608 Wisconsin Ave. in Tieton.
The bazaar is a free event.
A reception for Trimpin's Sound Space and the Chandelier Festival will take place from 3 to 5 p.m. on Saturday at the bazaar.
The reception is also free.
The "Sound Space" is a destination sound art space in Central Washington for Trimpin's sculptural contraptions. This transformed apple storage warehouse chamber will be home to Trimpin's art on display for visitors.
For the opening, Trimpin will have two pieces up and playing, "Phffft," and "Klompen."
Trimpin is an internationally respected sound artist, engineer, composer and performer. He redesigned a large cold storage room as an installation and performance space. In it, he composes and tweaks his delightful and mesmerizing purely acoustic music-making contraptions, along with giving occasional performances. The high ceilings and hard walls make the space acoustically suited for his work.
Trimpin's self-directed concerts and performances include Phffft, Conloninpurple, Liquid Percussion, Kraut Control, (CanonX+4:33=100) and the artist's other amazing musical contraptions, which can be activated and controlled with a simple iPhone app.
The space will also be made suitable and comfortable for informal chamber concerts by Trimpin and other sound artists, collaborators and musicians.
Mighty Tieton is adding electrical controls, Wi-Fi routers, sequencers, comfortable seating, program-able lighting, a workbench and installation of suspension hardware for his works inside the Sound Space.
Eventually, additional performance programming and classes for music students in the region will operate from the space.