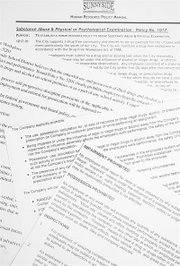 Anyone who thinks the passage of initiative 502, which legalizes the possession of marijuana in Washington state, means it's safe to light up should think twice.
"Nothing changes in the workplace," said lawyer Alex Newhouse. "An employer can still fire you for marijuana use."
The initiative only legalizes possession of up to one ounce of marijuana and sets up a statewide system to license growers, it does not give employees the right to work impaired.
"It's not as difficult as some people think to see if someone is under the influence," said Newhouse. "Red eyes, slowed reaction time, rapid breathing... there are signs."
Newhouse believes that once people get used to the idea of legal marijuana, it will be similar to the way alcohol is treated.
"Basically how it goes, if your employer does not want you at work impaired, you can be fired," said Newhouse. "People understand that if they go to work drunk they will get in trouble. It's very similar."
All testing for drugs is still allowed under the law. There are no changes in that regard.
"All the new law does is stops arrest and incarceration for simple possession," he said.
Local employers have no plans to change their hiring policies.
"School board policy and school rules say you can't have marijuana or come to school under the influence," said Sunnyside School District Superintendent Dr. Rick Cole. "That will not change."
Don't plan on smoking marijuana and working for the city, either.
"Our policy is pretty clear," said Interim City Manager Frank Sweet. "I guess we'll have to wait and see if anyone challenges it."
Sunnyside Community Hospital also stated there will be no change in staff policy and that its drug-free workplace policy is still in effect.
"We want to make it clear that Sunnyside Community Hospital and Clinics considers the health and safety of both our employees and the patients we serve to be of utmost importance," said hospital CEO John Gallagher.
"We are in the business of providing quality health care to the community. We treat patients every day when their health or even life is at risk. Out patients expect doctors and staff to be at their best, both mentally and physically. Therefore, employees will still be required to report for work in appropriate mental and physical condition," he added.
People who were arrested for possession before the vote legalizing small amounts of marijuana also should not expect any relief from punishment. At the Nov. 13 Sunnyside City Council meeting, Judge Steven Michels told the council that the county prosecutor does not seem inclined to dismiss any charges that are pending.
"The one thing I will say," said Michels, "not that I am for the legalizing of marijuana, the only good thing that I saw in what passed is that it does have a basis from which the amount of marijuana in one's system can be measured and that can be related to drunk driving."
He said the information would be useful to the courts to prosecute people for driving under the influence because prior to the passing of the initiative there was no way to prove the level of the drug in the system was enough to impair the motorist's abilities.
Michels also spoke about people who were released under the medical marijuana law asking for their stash of the drug back. Because possession and distribution of marijuana is still a federal crime, any drug that has been seized cannot be returned without violating federal law.
Alison Holcomb, campaign director for New Approach Washington which fought to get initiative 502 approved, said the law will not put any state or local officials in jeopardy by making them violate federal law.
"Initiative 502 protects state officials by not requiring them to go against any federal law," said Holcomb. "No employees will be in danger. People who wish to grow or use marijuana are taking all the risk upon themselves."