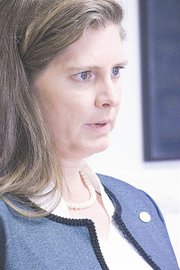 MABTON - After Tuesday's special meeting announcing the end of an audit for the city of Mabton, council members across the board were pleased with the results.
The last state audit the city of Mabton endured, covering 2004 through 2008, showed four findings in the city's financials.
This past Tuesday morning, state audit assistant manager Lisa Noland presented the city's 2009-2011 audit, which showed no findings at all.
The most severe reporting level in an audit released by the state, called a finding, formally addresses an issue in the audit report. Other reporting levels include a management letter, which communicates a less significant instance of non-compliance; and an exit item, which addresses far less serious audit issues that aren't included in the official audit report.
"It was a fairly clean audit," Noland said. "(The city showed) good improvements."
Council members stated in unison they were also pleased with the audit, which resulted in just four exit items.
"I think we made a lot of progress and I'm happy with (the audit)," Councilman Mario Martinez said.
Martinez also noted that the good financial standing was in large part due to the Mabton City Hall office staff.
The official audit hasn't yet been released, but Noland says once it is, it can be found on the auditor's website, at www.sao.wa.gov.