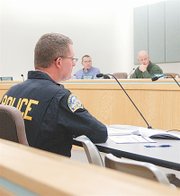 The council is finding the most difficult problem with Sunnyside's budget is the number of unknowns, particularly with respect to the salaries of city employees
The salaries listed in the current version of the proposed budget are estimates based on the actual salaries paid in 2012 through September, according to Interim City Manager Frank Sweet.
Exact numbers will be determined by the end of the budget process, according to Sweet. The city staff needs to look at contracts to update the amounts to the 2013 values. Sweet said the preliminary numbers will go up as the correct data is added.
Another item of uncertainty is interfund payments that cover vehicle costs and other similar items that need to be budgeted in advance. Deputy Police Chief Phil Schenck said the distribution of vehicles to departments has not yet been worked out.
Deputy Mayor Don Vlieger asked for detailed information on each interfund payment in the budget. Most departments have an interfund line item, and Vlieger asked for transparency on what the funds are used for in regard to each department.
"Before you are asked to approve the budget you will understand those numbers," promised Sweet.
As Schenck went through the budget line item by line item, he pointed out mistakes made in the past that make it difficult to determine what the city actually spent on a particular service.
One item of contention was the K-9 unit, which showed as a negative amount for the officer's salary in the 2012 actual numbers.
"The officer's salary was included in patrol," said Schenck. "This will be fixed."
Councilwoman Theresa Hancock noted that there is no way to determine if the K-9 unit is paying for itself because the true cost of the department is not broken out in the budget.
Schenck said he would provide a cost/benefit analysis to council and expressed hope that the new financial software the council authorized will make it easier to determine costs by department.
The law enforcement budget that Schenck presented had a number of cuts, including a moratorium on travel for training and the elimination of several grant funded programs that did not get more grant monies for 2013. Some costs went up due to contractual requirements, including boot allowances and some uniform cleaning expenses.
One line item that increased dramatically is ammunition. Schenck said ammunition is currently hard to get and very expensive. The department has budgeted $9,000 for 2013 for ammunition compared to $3,500 in 2012.
The bottom line on the law enforcement budget was that it will cost the city more than $3.7 million in 2013, which is up from the budgeted number for 2012 but very close to the actual expenditures from 2011. Sweet said when the salaries are adjusted the number will be closer to $4 million.