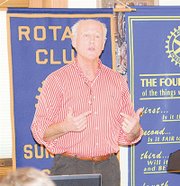 Walter Larrick of the Bureau of Reclamation is excited about the Yakima River Basin Water Enhancement Project and how it will create a balance in the Yakima Basin between fish, farming and conservation.
In a presentation to the Sunnyside Noon Rotary Club on Monday he said the efforts have been in the works for a long time. Larrick told the group an adjudication started in 1977 to determine who has valid water rights in the basin and who has first priority to water during shortages. Congress first directed the Bureau of Reclamation to conduct a feasibility study in 1979.
The process led to conservation efforts that included screening irrigation canals, conservation plans and eventually the Integrated Water Resource Management Plan which will attempt to balance the needs of all the users of water in the Yakima Basin.
Larrick showed a video that presented an overview of the process, available at www.usbr.gov/pn/programs/yrbwep/2010workgroup/ and noted that the process is a little behind schedule, but is currently being worked on at the federal level.
The plan focuses on seven elements: enhanced water conservation, new water storage or expansion, groundwater storage, water marketing, modifications to existing operations and facilities, fish passage and fish habitat enhancement.
Larrick said the plan in its final form will be expensive, but it's a long-term plan that will have an impact in the area for the next 40 years. The hope now is that funding will be available to implement the plan.
More information about the current status of the plan is available online at ecy.wa.gov/programs/wr/cro/yakimabasin.html.