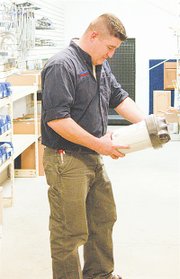 When Eldon Finger isn't working, his passion is hunting.
The manager of KIE Supply in Sunnyside said he hunts anything, from elk and deer to pheasants and geese. He even convinced his wife to join in and is both proud and slightly embarrassed that she's managed to bring in a larger buck than he has the last three years.
Finger grew up in Richland and graduated from Kamiakin High School. He tried college but didn't last long and instead plunged into the work force where he experienced a variety of jobs.
He worked in farming, retail, plumbing and earned trusted positions, including being a manager at Cinnabon for six years. During a time of financial difficulty he worked three jobs at the same time.
"I slept and worked for a couple of years," he said.
With his background in plumbing he landed a job at KIE Supply in Kennewick and worked in the plumbing department for about four years before earning a promotion. He came to Sunnyside to manage the branch and moved his family to Grandview.
While his focus has been plumbing, the store offers electrical, lighting and residential irrigation services as well.
"I've been learning the rest," he said.
When he's not working, he loves the outdoors. In addition to hunting, he's active in scouting and loves to go on camping trips as a scoutmaster for a Grandview and Prosser troop.
But he truly loves to hunt. He returns to a family homestead, where his father was born, in South Dakota twice a year.
"I go to hunt geese in the spring and pheasants and deer in the fall," he said.