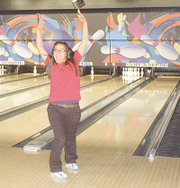 Junior Johanna Chumley may have been the big gun, but the Lady Grizzly bowling team had plenty of firepower from its four other starters yesterday afternoon.
A strong team effort by the Sunnyside High School keglers resulted in a 4-0 sweep of the visiting Ellensburg Bulldogs. Thursday's victory was Sunnyside's first of the season, after starting the year with a 0-5 record.
Chumley rolled a solid 164 in the opener, the top individual effort by both clubs in game one, to power the Sunnyside girls team to a convincing 670-545 win. The SHS junior was even more impressive in game two, tossing a 201 to lead the Lady Grizzlies to a 691-572 victory.
Sunnyside closed out the match with a pair of 149-107 and 126-103 Baker game victories to complete the 4-0 sweep of the Bulldogs.
In opening yesterday's match by outscoring Ellensburg by 125 pins in game one, Chumley received plenty of backing from her teammates. Besides the 164 Chumley recorded, senior Shantana Schneider was nipping on her heels with a 154. The Lady Grizzlies also got efforts of 138, 125 and 89 from the trio of Brianna Esqueda, Maria Casas and Lupe Varela, respectively.
Ellensburg couldn't muster anything better than a 140 in the first game, that rolled by senior Sarah Haberman.
Haberman also had a team-high 147 for the Bulldogs in the second contest, but it was no match for Chumley's 201. The other Lady Grizzly scores in the second game were 129 by Esqueda, a pair of 122's by Casas and Varela, and a 117 by Schneider.
Ellensburg's individual performances in game two ranged from Haberman's 147 to a team-low 91 shot by Cami Barrientas.
Sunnyside was just as dominant in the Baker format match-ups, where each member of the five-girl squad alternates taking shots throughout a 10-frame game.
Sunnyside's JV also notched a win Thursday, claiming a 3-1 decision. Possessing the hot hand for the Lady Grizzly junior varsity was Cheyenne Fernandez, who rolled games of 115-125.
The SHS bowling team is scheduled to next compete on Tuesday, Dec. 4, at Yakima's Minda Lanes against the Selah Vikings.