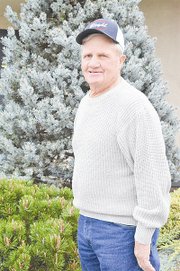 St. Clair Woodworth is a man who believes in supporting his community however he can.
Those efforts have led to him being named grand marshal of this year's Sunnyside Lighted Farm Implement Parade.
For 19 years the Sunnyside native served as a Port of Sunnyside commissioner.
Woodworth was born just outside Sunnyside on what is now Sunnyside-Mabton Highway. His mother was a Scottish immigrant and his father immigrated to Washington state from Nova Scotia, Canada for health reasons.
The couple met on Vancouver Island and moved to the Sunnyside area after trying to settle west of Yakima and being flooded out of a home near Zillah.
The Woodworths had their first son, Laurie, while living in the Zillah area and St. Clair was born soon after the couple settled near Sunnyside.
The younger of the Woodworths attended Sunnyside schools and served in the Korean War before returning home to Sunnyside.
Upon his return, Woodworth joined his older brother in establishing Woodworth Brothers Farms.
When the brothers decided the farm was too small for both of them, Laurie started his own gravel business, said St. Clair.
He said that company expanded and his brother was responsible for laying much of the gravel on Port of Sunnyside properties.
Meanwhile, St. Clair continued farming and eventually the venture became an asparagus root nursery.
Over the many years he helped establish a junior chamber of commerce, worked to promote and build the Miss Sunnyside Pageant and float, and served on several boards.
"I remember watching Evil Knievel pop a wheelie on the sidewalk and riding it all the way down the street," Woodworth said of his experience with the Miss Sunnyside Program and working with the junior chamber of commerce.
Woodworth also served as a member and chairman of the Washington State Asparagus Board.
"Bill Flower got me to run for Port of Sunnyside commissioner," said Woodworth, stating he doesn't know how exactly he became such an involved citizen.
"It just grew," he said, noting he chose to fill in when he saw a need for volunteers interested in the vitality of the community.
Woodworth said he has learned that even small efforts toward helping the community can lead to large accomplishments.
The Port of Sunnyside being a prime example, Woodworth said the efforts there were modest in the early years. Now the port provides wastewater treatment for local industries and has properties for economic development to the northeast and southwest of town.
As for being named the Sunnyside Lighted Farm Implement Parade marshal, Woodworth said, "I'm delighted...it's a great honor."
That recognition, according to those who selected him as tomorrow night's parade marshal, is the result of his many years in agriculture and helping the community, but "...I just did what seemed to be the thing to do, helping my community," he said.
Woodworth said he believes "...it's important to help your neighbors."