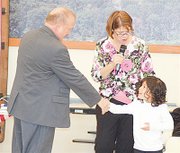 With a shy grin Alyson Yanez received a handshake, t-shirt and other prizes to honor her as the 600th kindergarten student in the Sunnyside School District for the 2012-13 year.
The milestone was celebrated last Thursday during an assembly at Sun Valley Elementary School, which serves all kindergarten students in the district.
Comparing kindergarten enrollment on the 10th day of the 2011-12 school year to 2012-13, Sun Valley has seen a more than 10 percent growth rate.
In one year, that represents an increase from 548 to 605 kindergarten students in the Sunnyside School District.
"It's difficult to speculate why we are seeing such an increase in enrollment over the last few years," said Superintendent Dr. Rick Cole. "It could be a variety of reasons. There are many things in our schools and community that make Sunnyside an attractive place for families to come to. It is a great community to live and work, and we are happy more families are here to experience that."
Whatever the reason, the district has had to make changes to accommodate the growth.
District spokesperson Curtis Campbell said a cafeteria/classroom wing was added at Sun Valley after voters approved a bond in 2009.
The expansion added four more classrooms at Sun Valley. The district hired four new kindergarten teachers this year to handle the need for more classrooms.
The growth at Sun Valley continues, numbering 613 kindergarten students as of last Thursday.
Now, says Campbell, that two-year-old expansion likely is already filled.
"That's about it right now," he said. "I'd say we're pretty close to capacity."
If there's another 10 percent increase next year, say upwards to 650 students, Campbell says the district may have to pursue some alternatives.
"Obviously we can't put more kids in classrooms," he said. "The board and administrative team would have to put together some options."
One possible option might be returning kindergarten students to Outlook Elementary School. Before the 2010 expansion at Sun Valley, all kindergarteners in the Sunnyside School District attended there except for those in Outlook.
Campbell adds that Sun Valley isn't the only building experiencing a growth spurt in the Sunnyside School District.
"We're up 212 students from last year," he said. For example, besides Sun Valley's record breaking surge past 600 students, Sunnyside High School is now over 1,800 students.