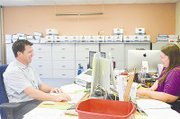 Although he isn't in a classroom, Sunnyside School District payroll specialist Mark Christopherson is learning anew.
He recently joined the payroll department after working for a car dealership for a few years.
Christopherson and his wife moved to the Yakima Valley three years ago when she found a job locally.
Coming from the north Seattle area, he said he finds he enjoys the Yakima Valley and the people with whom he works with.
Christopherson was in the accounting department at a local dealership when he found out the school district was hiring a payroll specialist.
"I find it refreshing," he said of learning to adjust to the new environment and the people with whom he works.
Christopherson said the employees at the Sunnyside School District are friendly and amiable. They are eager to help him if he needs assistance and everyone seemingly enjoys working with one another.
As a payroll specialist, Christopherson is responsible for setting up spreadsheets, auditing time sheets, processing leave, setting up employees within the payroll system and processing benefit billings.
There are many other responsibilities, as well. One such responsibility is getting all the data properly entered for looming deadlines.
"But, I am not aware of the deadlines as much as my boss," Christopherson joked.
Laughingly, he said, "I also bring bagels...on Fridays."
Christopherson doesn't view his work as dull or boring because, he said, "I like numbers...I feel very comfortable in my new job."
Because he is new to the district, Christopherson said he has yet to find a drawback to being a payroll specialist.
He said he has served as a financial manager for a property management firm and was in the accounting department at his former job.
"That prepared me for this and I am enjoying it a lot," said Christopherson, adding the deadlines don't even bother him.