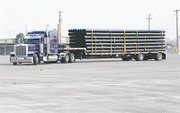 JM Eagle's pipe production plant in Sunnyside has moved to a 24-hour production facility.
Recently, the local plant has been receiving numerous orders after beginning to manufacture high density polyethylene (HDPE) plastic pipe.
"We were getting calls before we started production, people asking us when," JM Eagle Sunnyside Plant Manager Stan Romig said.
JM Eagle is the leading manufacturer of PVC and HDPE plastic pipe. With greater strength, capacity and geographic reach than ever before, the company's resources provide capability for new products, new materials, new applications and new processes. The company also holds to the truth that much of the world's poverty could be lessened with access to clean drinking water, which non-rusting plastic piping can help provide.
The company's Sunnyside operation opened for production in 2007, and began producing PVC piping. Recently, the company made the switch to begin producing polyethylene piping. Romig says the piping has different chemical properties, and has a thicker wall.
Right now, the company has the capability to produce 50-foot pipes with three-quarter-inch diameters to 36-inch diameters, as the Northwest's first JM Eagle polyethylene pipe production facility.
The Sunnyside plant, according to Romig, is up to 30 fulltime employees and is ever growing with its polyethylene pipe production operation.
Polyethylene piping's distinctive characteristic is that it can be made to be flexible. This quality opens the pipe up to a different world of functions than that of rigid piping. Romig says the company is working to ship the pipes coiled for easy flexibility, too.
JM Eagle pipe production starts with the chemicals needed for the pipe. They are heated to a desired, sizzling temperature for the formulation process, the end result being a tube-like form.
The material goes from hot to cold, to help form the pipe's shape and durability. Once it's all said and done, the polyethylene pipes are shipped to the company's customers and distributors.
Polyethylene also has the distinct capability with its chemical properties to be melted together. This is where the ends of two sections of pipe are melted and then pushed and held together, forming a single pipe.
The versatility of polyethylene has made this product a highly-sought pipe in Sunnyside among JM Eagle's Northwest customers.