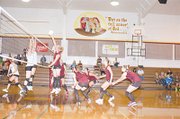 The Sunnyside Christian Lady Knights varsity volleyball team continued its winning ways in a non-league match against Zillah's JV squad last night, taking the match in three sets, 25-18, 25-7, 25-13.
The Lady Knights got off to a slow start against the Leopards, trading points and the lead in the first set before taking control to win.
By the second set, the Sunnyside Christian team had hit its stride and the Lady Knights dominated a seemingly daunted Leopard team.
The final set was closer, but Sunnyside Christian had control from the start and came away with the victory.
"I was happy with how we played tonight," said Lady Knights Coach Stephanie Dalrymple. "Our passing looked a lot better and we played well together as a team."
Leading the Sunnyside Christian team to victory was Stormee Van Belle, who was all over the court keeping the ball alive with nine perfect passes and devastating when she hit the ball over the net with 11 kills.
Lady Knight Alexandra Newhouse was a perfect 20-for-20 from the service line and kept the ball moving with 10 perfect passes. Teammate Annie Brouwer helped finish off plays with four kills.
Both Danika DeGroot and Kate Newhouse put in 17-for-18 performances serving for the Lady Knights. DeGroot also had 10 assists while Newhouse contributed eight perfect passes and also spiked the ball for three kills.
The Lady Knights (3-0, 7-0) hit the road to Trout Lake tonight to play the Mustangs in a league match-up.