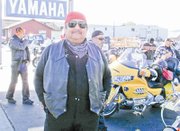 After the accident Dave continued on his way to Salt Flats, Utah. At the next stop, he checked into a hotel and signed in his best friend, Rafael Garcia, even though he wasn't physically there.
Because on Aug. 25, just days before the motel check-in, the longtime Mabton teacher, Garcia, was involved in a traffic accident, and didn't make it out alive.
"There's a huge hole in my heart," Dave Monson said.
A group of motorcyclists were enroute to Utah for the Bonneville Vintage motorcycle racing event scheduled to begin Aug. 31.
"This trip was on his bucket list," Monson said.
Monson, or Chopper Dave as he is commonly called, said the day before the accident was "just the best day ever."
Along the way, they ate some of the best fudge ice cream bars and huckleberry pie they'd ever had.
At the motorcycle event in Utah, a group of comrades gave a toast with Garcia's favorite drink, Adam's wine, in his honor.
Garcia, a Sunnyside resident, would often order his Adam's wine, and when asked what that was, he would respond saying, "Well, water of course."
Garcia gave up drinking alcohol more than 35 years ago, but was still very specific about his ancient wine drink.
"It had to be in a glass, glass and no ice," Monson said.
Monson says Garcia was old school, he loved to teach and he didn't watch television.
"He has read thousands and thousands of books, and he did not watch TV," he added.
Ever since the 1960s, he fell in love with riding his motorcycle and always took an opportunity to take a ride.
Monson says of their many lunch and dinner outings, it wasn't a surprise to have many of Garcia's old students come up and greet him.
"And there was only one time he didn't remember a name," Monson said. But come to find out, Garcia didn't remember the name because the individual was a substitute teacher, not a former student.
Friends, family and former students will all gather this coming Saturday in the Mabton High School gymnasium to honor Garcia in a celebration of life service at 1 p.m.
A ride for "Rafa," which was his common nickname, will convene at 10 a.m. at Target in Yakima. Riders will depart from Yakima at 11 a.m. and ride together in a funeral procession of sorts to Mabton High School via the "scenic route," to honor the route Garcia himself would have taken.
"Only Rafael could turn a 40-minute ride into a two-hour trip," Monson added.
photo courtesy of Dave Monson
Rafael Garcia, 68, of Sunnyside (foreground), passed away on Aug. 25, in a traffic accident while riding his motorcycle. The recently retired Mabton teacher will be remembered and celebrated this Saturday, Oct. 6, at 1 p.m. in the Mabton High School gym.