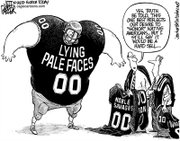 This past weekend it was reported that the Washington State Board of Education is once again asking schools with mascot names that are associated with native Americans to replace those mascots.
Giving up a mascot, however, is not as politically correct as the board would like to think.
Being politically correct is not always a good thing, especially when people stop to think about what these mascots stand for.
There are schools, like Kamiakin High School, in this state that stand on long-held traditions and values. Kamiakin's mascot, the Braves, is symbolic of courage, bravery and pride.
I don't think anyone can argue that these are admirable characteristics.
The school itself is named after a great chief, who led the Yakama Nation. The school was named to honor him, a man who stood for what he believed in during a time of great diversity.
Recognizing such an individual and naming a school for him or her is a way of retelling history throughout the generations. It is a way to pay tribute to an individual.
Native Americans are highly regarded by today's society, which has chosen to honor their contributions to this nation in many different ways.
Throughout the Central Washington region, the contributions of the Yakamas are highly revered. There are several schools named after Chief Kamiakin and it is only fitting to name the mascot the Braves.
Braves, Warriors and Indians are considered honorable mascots because they symbolize native Americans, who we have all learned over the course of history have exhibited courage, strength, honor and dignity among many other admirable characteristics.
Naming a school's mascot in relation to native American heritage is not meant as a racially motivated dig.
When schools choose a mascot of any sort, those selecting the mascot name often take into account the admirable traits as a way of telling others what their school stands for.
In the state school board's resolution, which is similar to one passed nearly 20 years ago, education gaps are expressed as a reason behind the move. Supposedly there is an adverse effect on students if their mascot is associated with native Americans.
I call bunk! I do not understand what adverse effects could possibly be experienced by students unless educators fail to teach our children this country's history lessons. Our educators can greatly impact the knowledge of students, sharing with them what native Americans faced as the nation was explored and Europeans took over.
Students can learn about the battles and the treaties...they can learn about the great characteristics of their school mascot.
It is my hope that the schools, parents and students stand behind their mascots rather than cave to the bureaucracy that is the Washington State Board of Education.