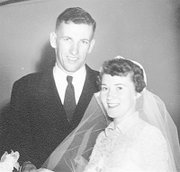 Sunnyside natives John E. and Beverly Newhouse were married 60 years ago today, on Oct. 3, 1952, at the First Brethren Church Sunnyside, and spent this past weekend celebrating the milestone with their children, grandchildren and great-grandchildren.
Beverly J. Shockley, daughter of Cliff and Esther Shockley, met her future husband at Sunnyside High School. John E. Newhouse, son of John and Tina Newhouse, was in the same graduating class and the two hit it off.
They both gave higher education a shot after high school, but settled down in Sunnyside together.
Newhouse was drafted into the army and sent to Korea, but otherwise the pair stuck together.
"It's been a good 60 years," said Beverly Newhouse. "Lots of good memories."
The couple raised five children while running a hop farm in the Green Valley area of Sunnyside for 40 years. Their children are Kimberly Graybeal of Wilsonville, Ore., Kristen (Tom) Tillett of Zillah, John Thomas (Edie) Newhouse of Grandview, Justin (Nora) Newhouse of Mabton and Justina (Anthony) Vasquez of Woodinville.
They've been blessed with 10 grandchildren: Jared (Alisha) Tillet, Nicole (Frank) Torres, Alyssa Graybeal, Ryan Graybeal, Derick Newhouse, L.J. Newhouse, Justice Newhouse, Joshua Vasquez, Caleb Vasquez and Isaac Vasquez.
They also have two great-grandchildren, Kaiden and Benjamin Torres.
Beverly Newhouse said the couple has traveled quite a bit in their lives, enjoying their time together. For Newhouse, the secret to 60 successful years of marriage is simple.
"Just appreciate what you have and take care of what you have," she said.