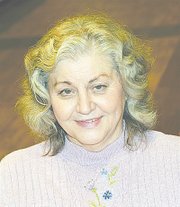 Joyce Haeske insists that her life isn't at all remarkable, but admits that she did experience a little bit of history in her time.
That bit of history came in the middle of the space race when she worked at NASA's Jet Propulsion Laboratory in Pasadena, Calif. from 1960 to 1964, officially as a chauffeur, although the job entailed more than simply driving.
"I went a lot by myself into LAX to deliver secret service men and papers," she said. "The advisor to the president would come and would ask what was new. I had to keep up on what was current."
She also got to drive a famous test pilot and astronaut around the campus of the NASA center, John Glenn.
"He was about 5'5", and he had strawberry blond hair," she said. "Every time he smiled his cheeks just really redded up. And he was so cute because he kind of has a shy personality. His wife, Barbara, is real shy and she stuttered, but oh, he loved her so much."
He was a bit of a joker though, enjoying playing tricks. Haeske would drive a NASA-marked station wagon with Glenn riding next to her in the front. His entourage of secret service men would ride in the back.
"The secret service ran along and jumped on the car. And (Glenn) was so full of old Ned that he'd say, 'alright, now when the secret service comes be sure to go, go!' I said I had to keep my job and he said just blame it all on me," she recalled, laughing.
"He came out with this merry smile that makes his cheeks come out with rosy balls, this mean little smile," she said. "And he'd say 'C'mon, Joyce!' and so we stepped on it. And the poor secret service man fell off. And John turned to me and said 'I didn't like that guy'," she laughs.
"I didn't get in trouble, I don't know why," she added.
Haeske met Glenn during the time he was testing rockets that were launched from airplanes. She was impressed by the work he did.
"Literally, he got on the rocket and they just lit it," she said. "And the thing went... you were just taking your life in your hands riding a rocket that you really couldn't control. You were on a Roman candle going."
Despite his heroics, she ran into a situation that he was uncomfortable with: L.A. area freeways. The system was being expanded at the time, and she described a stretch where the exits meant drivers had to keep moving over lanes to stay on the freeway.
"We called it falling off the freeway," she said.
In her marked car she was allowed to exceed the speed limit, and took advantage of the privilege when she needed to. On one trip she learned his weakness.
"We were going along about 80, because everything always had to be done yesterday," said Haeske. "I had John next to me in the front seat. I was having to cut in to get on the freeway, and there was all these trucks doing 75 to 80 miles an hour, and I had to just weave between the bumpers. You had to drive in your rearview mirror as much as forward."
She continued, "I didn't hear anything from John, no quips, no cute comments as usual. Eventually, when I could look, I checked and he was getting closer and closer to the floorboards. And he wasn't smiling. I saw his red face, with a frown on it. And it scared me. I thought maybe he was sick or something."
She related the ensuing conversation, smiling at the memories.
"I said, 'John, are you in trouble?' I was cutting that time about midway between one huge truck and another and he said, 'Do you have to drive so fast?' And I said 'Yes, because I have to get over four lanes to get to the exit.' And he said 'Oh.' And I said, 'Are you scared?' And he said, 'Well...' And I said, 'John, you were on those Roman candles and they just lit it and you took off. Come on now, you do a lot of things that are very heroic!' and he said 'Yes lady, but I was driving!'"
Haeske laughed at the notion that Glenn was truly in control of the rockets he piloted.
"Well, we got him there and he was alright, but it was a little hard on him," she said. "He flew by the seat of his pants, but me... women drivers!"
She laughs at the memories, but it was a tough job to get and demanding once she was in it.
"They put me through a lot of hard training," she said. Her reaction times had to be perfect. The country couldn't risk losing an astronaut in a car accident.
They graphed her response times, and she could see them come down just "a smidge" each year in her four years on the job.
"We had to dress in heels, gloves and a uniform with a hat," Haeske said. It was a two-piece uniform with winter and summer versions. "We had to wear hose and look really sharp. We were like receptionists, too."
The two chauffeurs at the NASA laboratory also had to have top clearance in order to enter all parts of the complex with their VIPs.
"They had to run us through the rat hole," she said. "It cost them $55,000 at the time to run us back that far, and all of our people. We didn't have anybody that was a threat."
Her background check extended back three generations to make sure she was safe to employ. And she had to be attractive, as well. She was told she'd been hired for her smile, as well as quick reflexes.
Haeske recently went through open heart surgery, but it's not the first pain she's endured in life.
She had polio when she was 10 years old, and it left her with a limp from a slightly short left leg.
"I didn't walk much, I was in the car," she said of her time at the Jet Propulsion Laboratory.
She married a physicist at the lab who was working on the mathematics of getting a rocket to the moon through the slingshot process. But she was unlucky in marriage, and also unlucky in childbirth, with three of her six children not surviving the day of their birth.
After leaving the California center, she worked with horses.
"I did work like a man when I broke horses," she said. As for how much damage they did to her, "We came up even," she said.
"They let children have horses and they don't know what they're doing," Haeske said. "They get rank. They start aiming for you. I'd go in and correct them before they killed the kids."
She was teaching a student how to whack a horse to get its attention when the horse struck out with both legs. She protected her gut with her arm, which was crooked from then on.
In 1998 she was hit by a truck, which did damage to both her legs and her hips. She was still recovering from those injuries and hoping for a surgery to help her walk when she learned she needed heart surgery.
"I'm so busted up," she said. "But I'm getting better."
She's proud of her grandsons, who followed her in a sense, both being jet pilots based in Hawaii.
"They're not happy unless they're going 5,000 miles an hour with their hair on fire," she said. "They're like Grandma, not happy unless she's on a wild horse."
But a mention of her time at the Jet Propulsion Laboratory can bring a smile back to the face of this tough lady who has endured so much.
"We had fun," she said. "I had my fun. I had fun times."