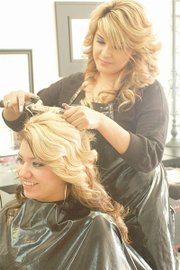 As a first grader, Amabel Pacheco was often found in her classroom cutting the hair of her Barbie dolls.
"I guess you could say I've wanted to be a hairdresser since the first grade," she said.
This Sunnyside High School graduate began working shortly after high school as a secretary at Catalina's Hair Care in Sunnyside. She worked there for two years, taking appointments and applying makeup for clients. Then, after completing courses in 2007 at the Professional Beauty School in Sunnyside, she earned her own chair and clients at Catalina's.
Each day at the salon the 26-year-old helps customers with coloring, highlighting, extensions, makeup, up-dos and facials.
But most of all, she says she loves to give color highlights and extensions to her clients.
When she's not working her 4 and 5-year-old daughters keep her schedule full.
"I'm a busy mommy," she said.
As a perfect fit for the profession, Pacheco says there isn't anything she doesn't absolutely love about her job. The best part of her day, however, is when clients leave with a smile on their faces.
"It makes me the happiest when (clients) hug me and leave happy," she said.
Professionally, it's all she could hope for.