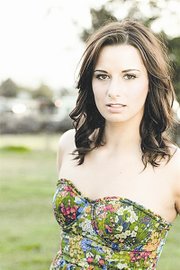 TOPPENISH - Up-and-coming country artist Kate Turner grew up in the small town of Burbank, and is currently in the process of recording her debut album.
This weekend Turner will make an appearance at the Toppenish Fraternal Order of Eagles lodge.
Dinner for members and guests of the lodge begins on Saturday, Oct. 6, at 6 p.m., and a performance by Turner will begin at 8 p.m. Tickets to the dinner and show are priced $15, or $10 for tickets to just the show.
After two years of going to school in Lexington, Ky., Turner made a visit to Nashville. After that, she hit the ground running.
"It was the first time I was surrounded by music in that way. I realized I was ready to really do this. Instead of getting lost in the mix over there, I decided to come back home, surround myself with support and start from the ground up. I wanted to finish a solid EP, build a band and start creating a local fan base," said Turner
Backed by well-known musicians in the Northwest, Turner is already grabbing the attention of fans all over the west coast with her fresh, original country music.
Less than a year after the release of her first single, Turner has already shared the stage with Matt Kennon (The Call) and Sawyer Brown (Some Girls Do).
Fans can search for Turner on soundcloud.com, follow her blog at kateturnersongblog.blogspot.com or on her new fan page started by fans called Dedi-Kates on Facebook. Turner's music can also be downloaded on iTunes.
Turner also brings versatility to the table. Although her heart belongs to country music, and tells stories through her lyrics, her music has crossed over into several other genres enabling her to reach fans from any end of the musical spectrum.
Turner burst onto the music scene in June of 2011 with the release of her song "Baby No" and hasn't looked back since.
After a visit to Treasure Isle Studios with Fred Vail in Nashville during the summer of 2012, Turner has begun collaborating with country music's widely known producers, writers and musicians in preparation for her first full-length album, which will be featuring 10 of her original songs, as well as a few more from some of her favorite fellow writers.
To order tickets to the Oct. 6 show, contact the Toppenish Eagles lodge at (509) 865-2229.