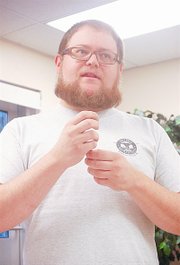 Hops are worthless, except when used in beer, according to Snipes Mountain Brewery head brewer Chad Roberts.
But beer is not all made the same way.
The newly surfacing trend is fresh hop beer, says Roberts.
The difference from regular way of brewing beer, and using fresh hops is in the process.
The process of traditionally made beer begins with barley.
Roberts told Sunnyside Daybreak Rotarians this past Wednesday morning that Snipes uses a majority of locally grown ingredients to complete its brewing tasks. The barley and hops are kilned and lightly crushed, then mixed and rinsed. This creates wort, or sugar water.
The wort is then boiled with the hops for more than an hour, and cooled to a mere 70 degrees.
"It's the best temperature to introduce yeast to the mix," Roberts added.
In the beer-making process yeast consumes the sugar and then the concoction is carbonated using pressure.
"We put it into bottles or kegs, at which point you can enjoy the finished product," he said.
Fresh hop beer is made slightly different, according to Roberts.
In the process, the fresh hops are just that: fresh. They aren't kilned, but are boiled nearly eight times.
Snipes Mountain Brewery in Sunnyside is now serving its fresh hop ale, New Sheriff, on tap at its Ninth Street and Yakima Valley Highway location.