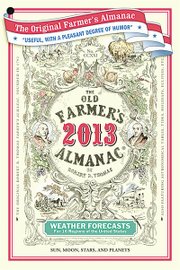 It still has the familiar yellow cover and trademark weather prognistications, but the Farmer's Almanac latest edition offers a hi-tech twist.
The 2013 Old Farmer's Almanac, the 221st edition, is available in paperback, as usual, but this year for the first time features digital apps.
Readers of this year's version will enjoy tried and true recipes, including some that feature a nod to the bacon fad so popular now.
The almanac's stock in trade, though, is weather forecasting.
It doesn't disappoint for 2013.
As usual, there are month-by-month, day-by-day weather predictions for each region of the country, complete with detailed maps.
Our region, which the Old Farmer's Almanac calls "Intermountain," is forecast to have a mild winter with above normal temperatures and below normal snowfall.
The 2013 issue, like its predecessors, is full of down-home ramblings and notions. This year's edition includes the work habits of possums, which the almanac dubs "Mother Nature's Janitor," as well as the first aid benefits of papaya.
One of the appealing things about the almanacs is the mixture of down-home advice, as noted above, as well as a view of cutting-edge trends.
For example, the 2013 almanac reports that for the first time since World War II there has actually been an increase in the number of U.S. family farms.
Speaking of cutting-edge, the Old Farmer's Almanac may just succeed at capturing a new audience thanks to two mobile apps unveiled this year for the first time.
Both are available at the iTunes store or at www.almanac.com
One is the Full Moon Finder App for Android and Apple mobile devices. In addition to directing the user to the next full moon dates, the app contains moon folklore.
The other almanac app unveiled this year is "Advice of the Day." Besides a daily dose of folksy wisdom, the app has built-in sharing via Facebook, Twitter and e-mail.
Each day the app delivers to smart phone, i-Pad and i-Pod users a dollop of advice in keeping with the almanac's slogan of providing material that's "useful with a pleasant degree of humor."
What may not be so humorous to those who purchase a copy of the almanac at newsstands is that the apps cost 99 cents each.
Essentially, those users are paying twice for the same content.
Hopefully the next-gen almanac apps can be provided at no charge for those who buy the almanac, while still charging those who haven't picked up a copy.
Still, it's great New Hampshire-based Yankee Publishing, Inc. - which publishes the almanac - is making strides in keeping the Old Farmer's Almanac, now in its third century, relevant for the digital age.
More like this story