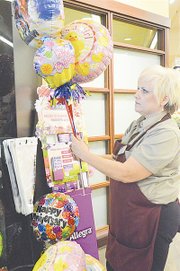 As predicted last year, there is a helium shortage and the forecast for increased supplies is bleak.
Helium is commonly thought to be used only for balloons.
That's not the case, according to Oxarc's Sunnyside Branch Manager Shane Hibbs.
He said many don't realize helium is the only gas that reaches absolute zero degrees.
As a result, the precious gas is used in the medical field for cooling equipment. It is also used for detecting leaks.
Hibbs said balloons are a low priority use for helium.
Experts believe legislation must be changed to ensure the world doesn't run out of helium, a bi-product of petroleum products.
Currently helium supplies are managed by the Bureau of Land Management, which allocates crude helium to six refineries in the U.S.
Other refineries in Russia, Algeria and Quatar have supplied helium, but those refineries have either shut down or experienced severe outages. With those refineries offline, the demand for helium from the U.S. has increased.
However, the U.S. has had difficulties meeting the demand because refineries here have also experienced outages.
Helium comes primarily from the Texas panhandle, Oklahoma and Kansas. There are smaller gas fields in Colorado, Wyoming and Utah that also provide the gas.
The problem with helium is that it can escape if not properly captured and there is no way of renewing the supply.
"The government also wants to get out of the market, but no one has stepped up to fill in the gaps," said Hibbs.
He said the end result is fewer allocations for those who distribute helium to consumers.
"When we have some on the docks, the supply goes first to hospitals and industries," Hibbs said, stating gift shops and floral customers are the last to receive supplies.
"I would like to think that people understand the patient needing an MRI is going to get helium first," he said.
Oxarc supplies helium to hospitals, industries and floral shops throughout the Lower Yakima Valley.
Hibbs said the company is fortunate to receive allocations of helium for its customers. The allocations, he said, are for ultra high purity helium, standard medical grade helium, industrial helium mix and balloon grade helium.
Just last week a supply of eight tanks containing balloon grade helium was delivered to the Sunnyside Oxarc facility and all eight were snatched up immediately by the company's contracted customers.
"For that reason we can't supply helium to anyone who isn't on contract," said Hibbs.
The Safeway stores in Sunnyside and Grandview are among the contracted customers for balloon grade helium.
Sunnyside's Safeway floral department manager Julie Moon said her store was without helium supplies for the entire month of September.
"It surprised a few customers and they thought I was joking," she said.
Unfortunately for those wanting to celebrate birthdays and other special occasions, Moon was serious about the situation.
She said those customers were surprised to learn helium has other uses.
"They were pretty understanding once they were told about the helium shortage and it was explained that hospitals get helium before we do," said Moon.
She said her staff became creative, though. They came up with ideas to help meet the customers' needs, such as using special sticks to keep the balloons upright. They also developed balloon arrangements in vases.
"We just compensate and find the customers are pretty understanding," said Moon.
Safeway and Morris Floral in Sunnyside have both had to address another concern. There were customers who purchased balloons outside their stores, but wanted the stores to fill the balloons.
"We had to stop doing that," said Morris Floral Owner Mark Cook.
Both stores have implemented a policy, stating they will only fill balloons purchased at the store.
Cook said he wasn't aware of the helium shortage until a couple of weeks ago when his supply ran out.
He went to his supplier for more helium and was told there was none to be had.
Cook said he went to another supplier and had to pay more. As a result, customers ordering a bouquet with a balloon are having to pay a little extra.
"Five years ago we did a lot of balloon sales," said Cook.
That was until the schools implemented a policy prohibiting latex balloons on campus out of concern for students with latex allergies.
Cook said his balloon sales dropped by about 60 percent and that is why he had plenty of helium in supply until recently.
"Now, we have to think conservatively," he said.
Moon agreed, stating her staff may not be able to fill balloons up with helium, but customers can still make a statement with the creative ways the staff at Safeway has compensated.
Hibbs said Oxarc will continue to receive allocations and will strive to meet demands of the market as best it can.
"Valentine's Day is what we are thinking about...there will still be a shortage, but our management team is working hard to make sure our customers' needs are met," he said.
The experts say the helium supply will remain static until next May at the earliest. That's when a new refinery is set to go online.
In the meantime, those wanting balloons filled with the rare resource may need to be flexible.