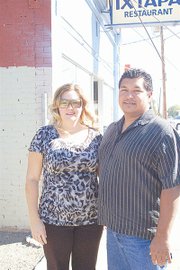 MABTON - In the next few weeks, Mabton area residents will see an old familiar building undergo a complete transformation.
Vanessa Cervantes plans to bring more than 12 years of experience running a bar to Mabton in record time.
Earlier this week, Cervantes and her husband, Martin, were scheduled to take possession of the keys to the old Ixtapa Restaurant in Mabton, and begin a complete renovation of the facility.
The happy couple met more than six years ago in Las Vegas. Mr. Cervantes, who is originally from Mabton, brought back his wife to his hometown and they began a life together in the Lower Valley in 2009.
Since then, Mrs. Cervantes has missed the life of being behind a bar. She says the R Bar and Grill hopes to offer Mabton area residents, and visitors, a fun and relaxing environment.
The establishment will have pool tables, darts, a dance floor and a patio area outside the 3,500 square foot building.
Though the building is set to undergo a complete remodel, according to Cervantes, they plan to open for business on Friday, Nov. 2.
"We're going to be going night and day, but we can do it (open by November)," she said. "We know what we want, and we'll get it done."
The restaurant is located at 311 B St. in Mabton, and is set to serve beer, wine, spirits and "normal bar food," according to Cervantes.