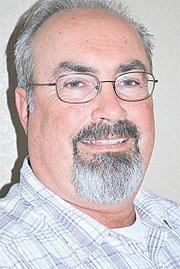 Dan DeGroot, a Sunnyside-area dairy farmer, has been appointed to the Washington Dairy Products Commission's Board of Commissioners.
He will represent producers in District 3, which encompasses Yakima, Benton and Klickitat counties.
As a commission board member, DeGroot is interested in communicating all the beneficial aspects of dairy.
"We need to make the general public aware of the different styles of farming if we are going to feed a hungry world with inexpensive animal proteins in a progressive, yet safe way," he said.
DeGroot, who is married with four grown children, was born in Grand Rapids, Mich. He began dairy farming in Corona, Calif. in 1982 and has operated the family-owned dairy at its present location since 1990.
DeGroot, who has a Bachelor of Science degree in business management from Calvin College in Grand Rapids, Mich., served on the Washington State Dairy Federation from 1998 to 2005 and was the Yakima County Dairy Federation president from 1998 to 2000.
DeGroot, whose milk is shipped to Darigold, currently serves on the Dairy Inspection Program Advisory Committee and is an alternate on the Lower Yakima Valley Groundwater Management Area Advisory Committee.
His dairy, Skyridge Farms, has more than 2,000 cows on 700 acres, where he also grows corn, alfalfa, apples and cherries.
DeGroot believes it's important for dairy farmers to be advocates for the industry.
He said, "U.S. dairy farm practices include high-quality animal care, environmental stewardship and community involvement."
Added DeGroot, "We need to show the public that there's a lot more to Washington dairies than just milk."
Each commission board member is appointed by Dan Newhouse, the director of the Washington State Department of Agriculture, and serves a three-year term. The Board of Commissioners is made up of nine representatives.
"Washington dairy farmers are among the best in the world," said Lynne Schmoe, director of industry communications with the Washington Dairy Products Commission.
She said, "Dan will represent our farmers well. His experience, knowledge and passion will be an asset to the board and to his fellow dairy producers."
Washington Dairy Products Commission Board of Directors
District 1 (Northwest Washington) Robert Smit (Chair) - Lynden
District 2 (Southwest Washington) Liz Anderson (Vice-Chair) - Onalaska
District 3 (Yakima, Klickitat & Benton Counties) Dan DeGroot - Sunnyside
District 4 (Central & Eastern Washington) Kima Simonson - Deer Park
Washington State At-Large Cathy Thomasson - Enumclaw
Western Washington At-Large Michelle Schilter - Chehalis
Eastern Washington At-Large Genny DeRuyter - Outlook
Processor/Dealer Brian Linney (Darigold) - Seattle
WSDA Representative Kirk Robinson - Olympia