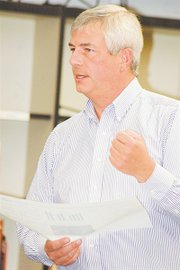 GRANDVIEW – As its third energy saving project, Grandview School Board directors this past Monday approved the intent to apply for state OSPI energy conservation grants.
The goal of obtaining these grants, according to McKinstry Inc. account executive Dave Ray, is for the district to reduce energy consumption, improve indoor air quality, provide increased reliability, eliminate obsolete equipment and qualify for rebate incentives for energy grant funding.
McKinstry is a full-service design, build, operate and maintenance firm, and has been working with the district making recommendations for conservation improvements.
After an assessment of Grandview schools, McKinstry officials say that Thompson Elementary School, along with the middle and high schools, are in need of building control optimization.
The firm also suggests the high school obtain a new boiler or chiller. Notes from the assessment indicate the Cleaver Brooks broiler at GHS is 35-years-old and past its useful service life.
With the 2012 Jobs Now Act, an energy operational cost savings grants program, schools statewide are eligible to obtain up to $34 million for energy conservation projects.
Applications for the first round of grants, which for applicants statewide will total $14 million, are due Nov. 9.
"Not only is it important to be energy efficient, but it's also great to provide our children with a healthy environment," Superintendent Kevin Chase said.
At this past Monday night's Grandview School Board meeting, directors approved a resolution, stating the district's intent to apply for both rounds of the grant monies.
Amber Schlenker can be contacted at 509-837-4500.