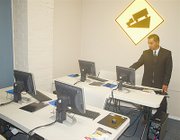 With encouragement from the community, H&R Elite Trucking Academy cut the ribbon last Thursday to officially announce its opening here in Sunnyside.
The school focuses on helping students obtain their CDL permit so they can drive semi-trucks for a living. Eventually it may expand to include working with those seeking to drive school buses.
It's all a dream come true, says Patricia Combs, one of the driving academy's partners. She says the other partners in the venture, Tony Hidalgo and Juan Rojas, have long wanted to operate their own school.
That is now a reality at the school's office at 426 S. Seventh St. in downtown Sunnyside.
Between them, Hidalgo and Rojas have nearly 30 years of long-haul trucking experience and both have been teaching others the trade over the past five years.
Hidalgo says he likes driving the open road and he's excited to share the occupation with others, especially during the current tough times in the economy.
"It's a great opportunity for a family wage job and to get into the business," he says of introducing others to semi-truck driving.
Hidalgo says the length of the course depends on the student, but typically each class lasts about five weeks. He says it's a good time to enter the trade. "There is a shortage of truck drivers," he said.
Rojas says a positive attitude and patience are great traits for prospective truck drivers to have. "You can only go so fast in an 18-wheeler," he smiles.
The program includes computerized training on site to get people up to speed on the business before taking the wheel. The academy has a big rig parked nearby for students who are ready to climb behind the wheel.
"I like what I do and I want to help people improve their quality of life," says Hidalgo. "Hopefully we can make a good impact for the city."