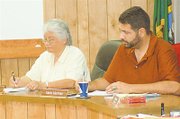 MABTON - The 2013 budget preparation is underway, and Mabton City Council members are still mulling over what they'd like to see accomplished next year.
Councilwoman Vera Zavala says she would still like to see the intersection at Main Street and B Street have bricked crosswalks. She also told council members that a map for visitors of the city cemetery would be a nice gesture.
City Attorney Phil Lamb says it would be beneficial for the city to look for state dollars for the road improvements.
City Clerk Ret Stewart also says city hall is in need of new doors and windows, and estimates are being sought now.
In addition, at Tuesday night's Mabton City Council meeting, Councilman Mario Martinez said a contract for designing a city website is close to being ready for the council to review.
The website, designed by YakIndo Designs, will cost approximately $2,500 to build and 50 percent of that fee must be given upfront.
"We really need to get this going," he said.
A contract may be ready for review by the city's next council meeting on Tuesday, Oct. 23.
In addition, council was instructed to give other budgetary concerns and suggestions to Stewart by this week's end.
A preliminary budget document will be ready for the council and public to review on Tuesday, Oct. 23. The council will also host a budget hearing that day, beginning at 7 p.m.
In addition, a study session to continue plans with the budget is scheduled for Tuesday, Nov. 6, at 6 p.m. An additional public hearing on the budget is scheduled for Tuesday, Nov. 13, at 7 p.m.
The council hopes to adopt the budget after its final public hearing on Tuesday, Nov. 27.