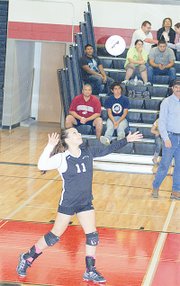 The Lady Grizzly volleyball team made it a season sweep in league play over Davis with a 3-1 victory last night over the Priates.
Sunnyside opened game one of Tuesday's home match with a 5-0 run, only to see Davis prevail 25-22.
"Our key servers didn't have runs in the first game," said Sunnyside Coach Sandy Jaquish.
That trend changed the rest of the way, though, as Sunnyside swept the next three games by scores of 25-14, 25-13, 25-17.
"We all played better from the second game on," said Jaquish. "It felt good for us to serve well. We blocked well and played good defense."
The second-year coach noted his squad's offensive attack fed off of that defensive effort.
"We played solid in all parts of the game," Jaquish said. "When the defense is good the offense follows."
Kendall Platsman and Madi Marquez were strong at the net for the Lady Grizzlies with seven kills each. Vanessa Alvarez added four kills.
As Jaquish noted, the service game was indeed a strong suit for Sunnyside. Andie Graham connected on 12 of her 13 attempts from behind the service line and notched five aces in the process.
Also strong in service for the Lady Grizzlies were Marquez (10-of-12) and Amber Cornwell (11-of-13).
Cornwell dished out 14 assists to help pace the Sunnyside attack.
Last night's victory gives Sunnyside a season sweep in league play over the Pirates, following a win over Davis on Thursday, Sept. 27.
Sunnyside (2-5, 2-9) doesn't return to competition until Tuesday, Oct. 16, when it travels to Eisenhower.
"We'll hit the weight room, work on conditioning," Jaquish said of the break from CBBN play. "We'll get our reps in and keep everybody healthy."