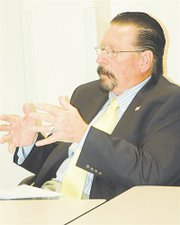 Sunnyside Interim City Manager Frank Sweet says though the city may be facing sales tax woes, they are working to find creative ways to fill in the gaps.
The goal for the 2013 budget process, Sweet told Sunnyside Daybreak Rotarians Wednesday morning, is a "zero based budget."
That means, according to Sweet, that city staff will be looking first at which revenues are expected to come in. Then the team will build expenditures around what revenues will allow.
"Not the other way around," he added.
Sweet also said the city's mayor and council are working together and making every effort to spend the city's money wisely.
In addition, the city is "getting into the game" of acquiring grants for the city's transportation improvement projects they hope to complete.
"You can't win if you're not in the game," Sweet said.
By the start of 2013, Sunnyside residents will also see changes. Sweet says by this coming January, the city will be back managing the local community center and offering parks and recreation programs.
In addition, they hope to have found the perfect candidates for the city's new city attorney and police chief.
But all efforts to serve and please haven't gone as well as they would have hoped.
The city ordered changes to be made at the stoplight intersection at South Sixth Street and Lincoln Avenue, allowing for an additional turn signal light.
After a few weeks of trial and error, city officials decided to return the light to its original form.
"We've made our mistakes," he said. "But we didn't know if it would work until we tried."
Sweet says the city is working on accountability and keeping the line of communication with local residents open.
"We're here to serve," he said.