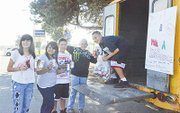 When students at Harrison and Sierra Vista middle schools were surveyed in an effort to find a community service project the students would back, the majority of those responding to the survey said they would support children in the community who are battling cancer.
Staff at the schools were seeking a community service project that could be completed in recognition of Make a Difference Day and took the idea of helping children being treated for cancer seriously.
Make a Difference Day is recognized as the National Day of Doing Good.
Staff members knew there are students in Sunnyside schools who have survived cancer and sought advice from one such student, asking Harrison Middle School eighth grader Kyle Cameron for his input since he was treated for Hodgkins Lymphoma just two years ago at the age of 12.
Cameron said he suggested supporting Seattle's Ronald McDonald House because the center made a difference for his family when he was undergoing cancer treatment at Children's Hospital.
He said Principal Robert Bowman spoke with him about his experiences at Ronald McDonald House and made inquiries to find out how the students in the two middle schools could contribute to the charitable organization.
Cameron said as residents of Sunnyside, it would have been difficult for his family to travel back and forth for his treatments. Ronald McDonald House provided the family a place to stay, as well as food and support while he underwent chemotherapy.
"My mom and I have both survived cancer," said the youngster, stating his experience with the disease was something his mother could relate to.
Cameron said Ronald McDonald House also made the experience as fun as it could be under the circumstances. He said the organization arranged visits for the children, providing them the opportunity to meet the cast of the CBS drama CSI: NY, as well as football players from the Seattle Seahawks.
He said meeting the cast members from CSI: NY impressed him most and he enjoyed meeting the show's star, Gary Sinise.
"For Christmas, Ronald McDonald House arranged for all those who were in the house to receive toys donated by some big toy stores," said Cameron.
He said he enjoyed the experience, especially because he is one of the lucky few who didn't suffer all that much while undergoing cancer treatments.
"Having a positive attitude helps a lot," said Cameron, who is currently in remission.
He said he annually must undergo testing to ensure the cancer hasn't returned, but he currently has a clean bill of health.
As a result, Cameron and the other students at Sunnyside's two middle schools have turned their focus on other children like him.
They are collecting recyclable aluminum cans for Ronald McDonald House.
"This is a way for students to support an organization with which they are familiar and have a personal connection via students like Kyle," said Harrison Middle School's High School Graduation Initiative Academic Specialist, Andrea Phillips.
She said students, parents and community members are urged to drop off aluminum cans at either Harrison or Sierra Vista middle schools through Friday, Oct. 26.
At Harrison Middle School it is easy to donate. "We have this big yellow delivery truck parked here...it's open throughout the day and anyone can drop donations into the truck," said Phillips.
She said the community service project serves a dual purpose. It allows the students and community to support a charitable organization while helping the environment.
Anyone with a few recyclable aluminum cans is urged to help the students support Ronald McDonald House by dropping off donations.