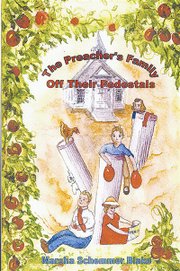 Marsha Schemmer Blake's second novel, "The Preacher's Family Off Their Pedestals," is a delightful autobiographical trip into the past to learn what growing up as the daughter of a preacher is really like.
This is a book that can be read in chunks, enjoying and savoring each piece individually or together. The stories are fascinating and often a lot of fun, but gentle as well.
The book is divided into three parts, the first introduces the family and the last tells what happened to them after the events described in the book.
The second part is the meat of the tale. It is also divided into three parts, called phases, based on where the family was living.
The story starts in 1943 with the first pastorate of Blake's father, and ends in 1960 after she's gone to college and her father has a heart attack and can no longer maintain his job.
Blake has a good sense of what is important in a tale, and so the stories are easy to understand and hold the reader's interest. She also knows when to finish, never giving too much detail or going past the interesting part.
A lot of the stories revolve around the personalities of the people the family met on their life's journey. Blake deftly describes each character in only a few words, highlighting the important quirks and why she remembers each one. She doesn't waste words with extravagant detail: each person is sketched, not painted.
Throughout the book, Blake emphasizes how the family's faith holds them together and leads them to their next destination. At the same time, she picks fun at the notion that a preacher and his family should be perfect, pointing out her family's flaws with gentle glee.
The book has many laugh-out-loud moments, and a reader may be tempted to share the stories in it with someone else. Giving a copy as a gift might be the best way to share, as there are too many good stories to be stingy.
"The Preacher's Family Off Their Pedestals" is a good read worth getting. It's available through Lulu.com or directly from the author, Marsha Blake, PO Box 811, Zillah WA 98953 or email at grandmablake.writer@yahoo.com.