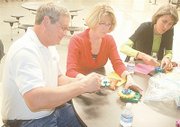 Improved curriculum complete with hands-on materials, better motivation for students and more communication with parents are among the keys to improving math, science, engineering and technology education in Washington state.
That's according to feedback provided last night, Thursday, during a forum held in the Sunnyside High School commons.
It's part of a regional program called STEM, short for science, technology, engineering and mathematics education.
The goal is not only to better educate students at all grade levels in those four subject matters, but to do a better job of preparing them for college and careers.
The Sunnyside forum was one of six held to gain input on how to improve STEM and education in general for the future. It's all part of a $200,000 grant from the state that's focused on planning those next steps.
As for the 20 or so members of the public at last night's Sunnyside forum, other comments as to what an integrated STEM education looks like in the classroom included engaging students to think through a STEM-related process.
Another idea mentioned last night was to involve all four disciplines - science, technology, engineering and math - in one activity such as looking at earthquake-proof buildings.
Mike Brown is a regional science coordinator for ESD 105, and he says there is urgency for improving student aptitude in the STEM areas. He noted that in the next five years it's predicted that 30,000 jobs in Washington state will go unfilled due to a lack of applicants with skills in the areas of science, math, engineering and technology.
He also noted that only 5 percent of college students pursue degrees in the four STEM areas.
Last night's forum wasn't all about just crunching numbers and brainstorming, as those in attendance had a chance to work through a sample classroom project.
It involved working hands-on with different sizes of gears and discovering what combination of gears moves the fastest.
Dr. Peter Finch is the assistant superintendent for the West Valley School District, and is involved in the STEM effort. He said the comments gathered from the forum last night and at other locales will be included in the planning process.
The goal is to implement those ideas in STEM education for the 2013-14 school year.