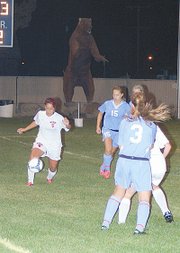 For Sunnyside girls soccer coach Sylvia Villagrana it is frustrating to watch her team give up goals because of errors.
Miscues have seemed to plague the Lady Grizzlies during the past two matches and last night's errors on the field cost them an 8-0 loss to 2A West Valley.
The Rams were able to score back-to-back goals in the 10th and 13th minutes in the opening half, giving West Valley a 2-0 lead at halftime.
Villagrana said Sunnyside was able to hold off the offensive attack until the halftime whistle, but the defense fell apart just three minutes into the second stanza.
That's when Hayley Reynolds and Alison Alderman of West Valley broke through the defensive lines. Alterman completed a pass to Reynolds for the Rams' third goal.
The Lady Grizzlies stiffened up and were able to keep the Rams from scoring another goal for six minutes.
However, at the 49th and 51st minute marks West Valley hit paydirt again.
"I realize the past two matches have had moments when our opposition scores back-to-back goals...it's as though my players become discouraged and lose their focus," said Villagrana.
West Valley scored three more goals in the 56th, 67th and 73rd minutes of the match.
All told, three of West Valley's eight goals were scored by Alyssa Wickenhagen for a hat trick. She also provided two assists.
"After West Valley's final goal, their coach put a new forward in. I yelled at my defense, telling them to mark her," said Villagrana.
She said the player was Stephanie Gibson, who is both tall and athletic.
"My defense stepped up and stopped her," Villagrana said.
When all was said and done, Sunnyside keeper Macenzie Butler kept 10 Rams' scoring attempts from being successful.
"She was playing with an injury and really worked hard," said Villagrana.
West Valley had 18 shots on goal.
Gibson and Rozlyn Pratt combined efforts to shut the door on the back of the net on all four of Sunnyside's scoring attempts.
Next Tuesday, Oct. 16, Sunnyside (1-6, 3-8-1) will compete in its last home match of the season against Eisenhower.