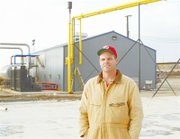 OUTLOOK - A new digester-based model for dairies offers environmental and community benefits, as well as a profitable alternative to the traditional manure-to-electricity approach, which is struggling where prices for renewable electricity are low or dropping.
"The new digester-based system produces pipeline-quality 'renewable natural gas' for vehicle fuel and also converts nutrient-laden wastewater to marketable bio-fertilizers," said Dan Evans, President of Seattle-based Promus Energy.
In 2006, the George DeRuyter & Sons Dairy near Outlook became the first, and only, dairy in Central Washington to build an anaerobic digester to convert cow manure into biogas used to produce renewable electricity.
At the time, rates for renewable power were on the rise and promised to augment the dairy's income.
Since then, energy markets have been turned upside down: the U.S. suddenly has an abundance of natural gas, reducing its price and the price of electricity. Major wind projects have also lowered the value of renewable power, especially in Central Washington, where electric rates are among the lowest in the country.
"That put us in an untenable position," said Dan DeRuyter, co-owner of the family dairy. He expects to shut down the generators after the first of the year when his contract with Pacific Power expires.
And although the digester reduced odor and pathogens, and processed wastes, it does not significantly reduce the nutrient load, which is coming under increasing regulatory scrutiny in the Yakima Valley and elsewhere.
But changing energy markets, technology and environmental requirements also create opportunities for the new digester-based system.
The promise of decades of low-cost natural gas in the U.S. is driving a shift from petroleum motor fuels to greater use of natural gas, beginning with bus and truck fleets. This historic shift opens the door to use of digester-based renewable natural gas, which can be profitably delivered to fleets for about $2 per gallon equivalent, half the price of gasoline or diesel.
In addition, recent advances in nutrient recovery technology now make it commercially viable to extract marketable bio-fertilizers - including ammonium sulfate, an organic phosphate fertilizer and a fibrous peat moss replacement.
"This makes it possible to export concentrated, high-value fertilizers from dairy waste," said WSU nutrient expert and system designer, Assistant Research Professor Craig Frear. "Dairies can reduce nutrient loading on nearby fields and water pollution, or the need to truck low-value lagoon water to distant fields." The digester-based system also reduces air emissions.
The new RNG/nutrient recovery model for the DeRuyter dairy was recently evaluated as part of a Washington State Department of Commerce-funded feasibility study conducted by Washington State University, Promus Energy and other experts. Promus is an energy development company with natural gas background and a focus on renewable natural gas.
"All the pieces of the new digester model are now available and ready to be connected," added Evans. "The feasibility study confirms it can be profitable, green and broadly applicable."
Promus Energy, WSU, DVO/Andgar and other members of the feasibility study team are now designing a two-digester project with DeRuyter and the adjacent Cow Palace Dairy.
"This is an exciting opportunity for us," said Adam Dolsen, owner of Cow Palace Dairy. "We have always strived to remain ahead of the curve when it comes to managing our solid nutrients - by producing organic compost, for example. With this new digester system we are simply taking the next logical step in nutrient recovery and management."
The project includes central gas cleaning and nutrient recovery units, and renewable natural gas connections to the Williams Pipeline, from which it can be sold to customers anywhere on the gas grid.
Truck fleets based in the region are likely users of renewable natural gas. Even with the cost of vehicle conversion, fleet owners can save money, reduce emissions and use a locally produced, renewable fuel.
Construction of the Outlook-Granger project is scheduled to begin in the spring of 2013, with initial operation the following spring.
DeRuyter is confident the project will improve his situation, based on the technical and financial analysis. He is still paying off the digester, which will lose money when revenues from power sales drop from $.065 / kWh to $.035. "This project represents a real opportunity to make our digester profitable," he stated.