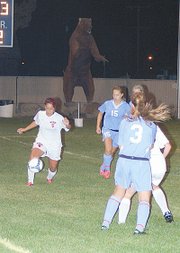 PROSSER - It took a doctor's warning for Gena Bradford to finally slow down and not feel responsible for everyone and everything.
"The doctor told me if you don't change you won't live," Bradford told the Lower Valley Women's Christian Connection during the group's luncheon meeting this past Tuesday.
After running her own daycare for 15 years, then working as a special education teacher, Bradford had become burned out.
"I felt like it was all up to me to take care of the world," she says.
Following her doctor's advice, though, Bradford had no choice but to step down and, as it turned out, resigned from her teaching post the same day she was surprised with a teacher-of-the-month award.
Bradford said she had feelings of guilt for leaving the school, but praised her understanding principal - a cancer survivor - who gave her the freedom to leave.
What followed was three years of rest and recuperation.
In the 12 years since then, she has realized life goals of becoming a published author and recording artist.
She shares her story today because, according to Bradford, "half of America" is feeling burned out based on the number of people taking anti-depressants.
To illustrate the need to find true rest in God, Bradford displayed several vases from her collection. One was full of holes and could hold nothing and another had a round bottom and could never be set down. "It's always serving, always pouring out," Bradford said.
She encouraged the audience to allow God to give them a "flat-bottom," that is a vase with a flat bottom that can sit and rest and be filled.
"God wants me to have a flat bottom...resting and abiding in Him," Bradford says. "...to give only out of the overflow, never pouring out to empty again."