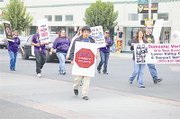 With sirens blaring, a police car led a crowd up Sixth Street from Centennial Square in Sunnyside last Friday afternoon as part of a march against domestic violence held to raise awareness of the problem for National Domestic Violence Awareness Month.
Almost two dozen people holding signs or balloons marched from the parking lot of Lower Valley Crisis and Support Services south to Centennial Square, then returned by the same route.
Pastor Bob Widmann of Cornerstone Church used the speaker in one of the escorting police cars to lead the group in chants.
"Stop violence now!" he yelled, and the group repeated the words. "Hands aren't for hitting!"
According to statistics, one in four women will be the victim of domestic violence at some point in her lifetime, and, on average, three women are killed every day at the hands of a current or former intimate partner.
The march is a part of a nationwide effort to acknowledge the problem and provide help to those who are trapped in abusive situations.
After the march, many attendees went to a free informational fair held at the Cornerstone Church, two blocks away from Lower Valley Crisis and Support Services.
More than a dozen local agencies had tables containing information about services available to residents of the area with giveaways related to their services.
Also available at the fair was a display from the Clothesline project, which allows survivors of domestic violence to tell their story through decorations on a shirt, which is then displayed on a clothesline. People can see the shirts displayed at the Sunnyside, Granger and Buena libraries through the end of October.