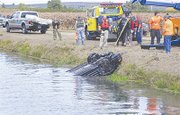 GRANDVIEW - This past Sunday morning at about 8:45 a.m. police received a report that a car had possibly left the roadway and entered an irrigation canal in the 800 block of North Elm Street.
Upon arrival, officers determined that an accident had occurred at about 1 a.m. Dive and rescue units from the Yakima County Sheriff's Office responded and assisted in removing the car from the canal.
Officers found the driver of the vehicle deceased inside. The driver, a 24-year-old male from Pasco, was pronounced dead at the scene. No one else was believed to be in the vehicle at the time of the accident.
The cause of the accident is still under investigation, but police suspect excessive speed was a likely cause.