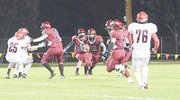 GRANDVIEW - Taking advantage of opportunities presented, East Valley jumped out to a big lead and held on to defeat the Greyhound football team 49-20 last Friday.
Playing at home, Grandview was plagued by turnovers, including a costly pick-six and fumbles inside their own 20. The result was a 42-6 lead at the half for the Red Devils.
"They're a tough team, one of the better East Valley teams I've seen in awhile," said Grandview Coach Rick Ramos.
The lone Greyhound highlight in the first half was Jose Castilleja, who ran for a touchdown from about 20 yards out.
Castilleja, who ran for more than 200 yards and three touchdowns a week earlier, was just getting warmed up Friday night. In the second half against East Valley he ran for two more scores and for the game had 171 yards rushing.
"That guy is non-stop," Ramos said of Castilleja, who in the last two games combined has nearly 400 rushing yards and six touchdowns. "He just refuses to go down."
The coach also praised his offensive line for creating running holes. "The offensive line has been doing a great job."
The Greyhounds were able to complement the ground game with a bit of passing, as quarterback Jorge Oros threw for 49 yards.
Grandview came out of Friday's game a bit banged up, with Ramos noting that center Justin Murbach had to sit out some of the contest due to an injury.
He said classroom grades have been taking a toll, as well.
Grandview (1-5, 1-6) faces another tough task this coming Friday when it hosts Ephrata. "They're tough, a good, fast squad," Ramos said.