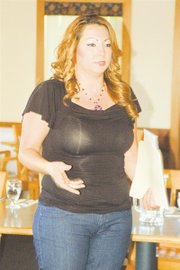 Sunnyside tax accountant Silvia Alvarez spoke with Sunnyside Chamber of Commerce members last Thursday about the ins and outs of filing their taxes. She says many business owners may not know the types and vast amount of tax credits and write-offs a small business owner can receive.
"I want to make sure we're getting ready for the tax season early," she said.
Business expenses, including advertising, utilities, wages, travel, meals and entertainment are just a few items in a long list of eligible write-offs business owners can take advantage of when filing yearly tax documents.
"Even if you buy toilet paper for your business, that's an expense and it can be written off," she said. "It's important to document every dollar you spend."
But when it comes time to file, Alvarez says filers should be aware of who they have preparing their taxes.
"There are some changes to the IRS laws this year," Alvarez added.
She says the new laws are an intention to keep tax preparers honest and working their hardest to get their clients the most bang for their buck.
Alvarez says the IRS is also cracking down on how many dependents a filer can claim. That's largely due to some folks spoiling the credit for the rest of the tax filing world.
In addition, the IRS is now requiring registered tax preparers to take courses with the IRS to be updated on the laws and regulations of the changes and additions to the tax filing laws.
Alvarez says when choosing an agent to file taxes, "...be sure they are registered with the IRS."