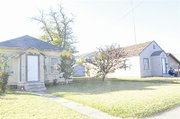 Volunteers working with the Loving Sunnyside Initiative, sponsored by Sunnyside Transformation Yakima Valley, will be back in action on Saturday, Oct. 20.
The effort has over the past few years resulted in 47 local homes receiving a fresh coat of paint, cleaner yards and additional pride in the community.
Volunteers of any age can join the effort on Oct. 20, which is held each fall in recognition of "Make a Difference Day."
A total of six homes will be provided a little TLC by those involved with next week's projects.
There are many ways to help, including painting, bringing food for breakfast or lunch, helping with clean-up or by making a financial donation to support the effort.
Organizers say 180 volunteers (or more) are needed to complete this fall's projects.
To sign up to volunteer or offer support, call 837-5371 for English or 837-2252 for Spanish or email l-lwerk@charter.net.
Registration and breakfast will be at 7 a.m. in the Sunnyside Christian High School gym on Oct. 20. A kick-off presentation will follow.
Volunteers will travel to the six project locations, which are 1313 E. Edison Ave., 910 South 11th Street, 400 N. 13th St., 822 S. 13th St., 817 S. Sixth St. and 821 S. Sixth St., at 7:55 a.m.
Lunch will be at noon and volunteers will finish their work by 2 p.m.